16 Delightful Things to Eat in Grand Indonesia Jakarta
After we talking about the things to do near Grand Indonesia, the area of business and hangt, there are several other things that make the Grand Indonesia a great place to visit. One of them is the restaurants and caffes.
Like in other are of Jakarta, things to do in Kemang for example, there are several restaurants that will server you with their own uniquely made foods with so many variations. They are really complete, fr the European foods, up to the Korean. Without fruther talking, let's take a look at the choices you can choose included in the things to eat in Grand Indonesia, Jakarta :
1. Itacho Sushi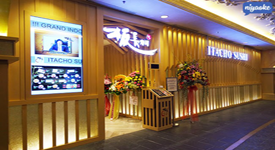 In the first place, is the Itacho Sushi. If you long for this Japanese foods, the Itacho Sushi might be your best chance to try them. This place get a lot of good reviews from its customers, and theyall the true facts about this place. The place is really modern, but the things in there are well placed.
Once you get in, you can choose the seat, either the seat that located right in front of the chef, or the seats far from there. Aside from the sushi, custrs also can choose the traditional Japanese tea, and other foods that suit the tongue of Indonesian people with all the foods haveing the price stating from Rp10.000,- only. It's really a great alternative beside finding another sushi restaurant in things to do in Tanah Abang.
Locations : Level 3a Sky Bridge, Grand Indonesia Mall
Tips : There's no tip at all actually because erything is good, maybe you should not make the your table looks so messy
2. Ninety-Nine Restaurant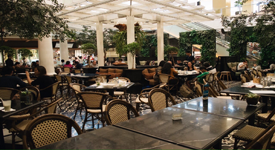 Moving from there, we'll go the next restaurant that has the name of Ninety-nie restaurant. The restaurant self provide the American and European foods, compeleted with many variations of drinks like beer and stuff.
The place has the elements of avillage putted in there, because you can see a bar inside, and the furnites that resembles the village condition and atmosphere very well. It's good for hanging out place with friends, especialy because there's a smoking area in here, so you'll not annoy somebody because of your smoke.
Locations : East Mall Lower Ground, Grand Indonesia Mall
Tips : Come here with friends during evening or night for hang out
3. Fook Yew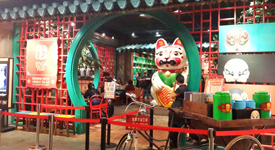 Next one is the Fook Yew of Grand Indonesia Mall. Really different from the other restaurants around Grand Indonesia, this ace has the unique traditional Chinese architecture. Yo can see there, many ornaments can be found in every corner of the place.
In the outside, they use this old Chinese building to greet the customers, but on the inside, the architecture looks a lot more modern. Of course, thef foods in here are the Oriental ones, starting from the main dishes to the dessert. They are having their own price of course, but the cheapest price in there is Rp50.000,-.
Locations : West Mall of Grand Indonesia Mall, in 3rd floor
Tips : The place is good for family meeting
4. Publik Markette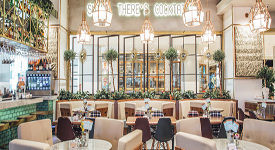 If you looking for the friendly atmosphere like you can find in several places like warteg and angkringan, then this place is really perfect for you. Giving the concept of all you can eat, or prasmanan in Indonesia,the Publik Markette succesfully catch the tourists target and the domesti target in the same time.
Like the situation around things to do in Jakarta Central Park, it's very cozy in here. There are four places in here to get your meal, that consist of meat, vegetables, baked dish, and dessert. The price also not very expensive for a modern looking place like this, it's starting from Rp100.000,-, to get all the things you want.
Locations : Grand Indonesia Mall, Ground Floor
Tips : A place that really good for hangingut, meeting, or brain storming with friends.
5. Millano Caffe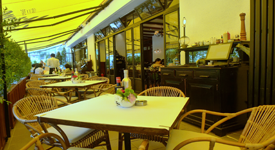 For the caffe, let's start with this Millano Caffe. From the picture here you can already see that this caffe has the vintage architecture. Not only resembled by the walls, the vintage aspects can be found in every thing in here, like tables, the chairs, and other stuff.
Beside serving beverages like coffe or milk, the caffe also serve you with choices of Italian foods. The most liked one is the Veal with Creamy Tuna Sauce, and also the pizza. Talking about price, you can order a thing that only cost you for about Rp200.000,-, and that is the cheapest price.
Locations : Grand Indonesia Mall, Ground Floor
Tips : Really luxury place, suit luxurios people. So reconsider your budget first
6. Magnum Caffe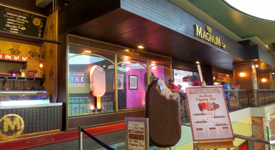 Next caffe is the Magnum. Magnum Caffe has the concept of "House of Chocolate", that's why the walls, tables, and everything in here painted chocolate. First to show their title as the House of Chocolate, and the second is making customers more comfortable with non contrast colours.
Located a little bit far from the things to do in Taman Mini Jakarta, Magnum Caffe is getting famous and famous because of its chocolate meals which is mad from Belgian imported chocolate. The theme of the place, combined with the chocolate is perfect. 
Locations : West Mall 6th Floor, Grand Indonesia Mall
Tips : Suitable for dating or hanging out
7. Kkuldak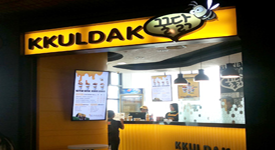 After talking about the Chinese, Italian, and Japanese resaurant, we moving to the next restaurant that has different theme. In this Kkuldak, you may find the best choices of Korean foods,a dn to be honest, they are so good even for Indonesian peoples' tongue.
In here you can find the famous foods like Tteboki, Karaage, and the commonly found food like Samyang ramen. The place was built with minimalist design, that's why the space in here is not too wide. In this little place, people still filling it until now, because the Korean foods are not common things that can be found in this mall.
Locations : West Mall 3rd floor, Grand Indonesia
Tips : Always come early to avoid the crowd
Aside from these seven restaurants and caffes, we also want to give you another list that consists of other places in Grand Indonesia, built as a place to eat in Grand Indonesia. You can see them easily, the things to eat in Grand Indonesia easily below :
Slice of Heaven
Imperial Lamian
Hang Gang
Koffie Warung Tinggi
Shirokuma
Benedict
Skye
Social House
Marche
So that's our topic for today, places or things to eat  Grand Indonesia Jakarta. This places indeed really complete with everyhting. So, if you happen to live in the area around Jakarta, or mayb around this Grand Indonesia, be sure to not missing the chance. And bring your friends and family in here, because this area is really really good for spending the day out by hanging around in certain places. Also don't forget to look at your wallet first though, because once you enter the place, you'll be satisfied with so many things.
Grand Indonesia, jakarta, Restaurants