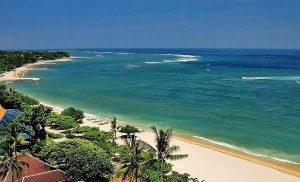 The beach is one tourist attraction that attracted many tourists. The beach is indeed one of the natural attractions that are fun to visit. Especially for an archipelago country like Indonesia, where a lot of charming coastline to be developed into a tourist attraction. One of them in Java, especially West Java.
In West Java there is a beach named Tanjung Lesung beach. The location is not far from Jakarta can be visited during the weekend to remove fatigue. If you want to go there, here are some explanations about this beach.
The location of this beach is in the outline of the western tip of Java Island. The exact location is in Tanjung Jata. Tanjung Jata ink into the district of Panimbang, Pandeglang District, Banten Province. This beach position is in the western part of Pandeglang district and has an area of ​​about 150 Ha. Most tourists who come are from Jakarta. Those coming from Jakarta can come to the beach through the Tangerang – Merak toll road route. When using Tangerang – Merak toll road, exit through the East Serang toll gate. Then, continue the journey towards Pandeglang City – Labuan. From there tourists can arrive at the beach of Tanjung Lesung.
Other route options can also be through Jakarta – Merak toll road. If passing this toll road, take the exit through Cilegon toll road. Then travel through the coast of Anyer that leads to Labuan. Continue the journey to end at Tanjung Lesung.
Less than the distance that must be taken from Jakarta to Tanjung Lesung is about 160 kilometers. If using a private vehicle, tourists from Jakarta approximately travel takes 2.5 to 3 hours, depending on road conditions.
And for tourists who want to use public transportation (especially backpacker), then tourists can take a bus from Jakarta or from anywhere with the destination Labuan Terminal. Arriving at the terminal Labuan, tourists can ride motorcycles to get to the beach. But more is recommended for more tourists using private vehicles or rental vehicles when traveling on this beach. The goal is that tourists can freely play and beepindah tourist attraction if needed to explore Banten longer or more complete.
Entrance Ticket Tanjung Lesung Beach
Arriving at Tanjung Lesung, tourists will be asked to buy tickets at the counter entrance. This beach entry price is also relatively cheap and affordable. By paying only 15.000 rupiah each person, tourists can enter the tourist attraction and enjoy the beauty of the beach is touted as a beach with panorama like Bali or Lombok.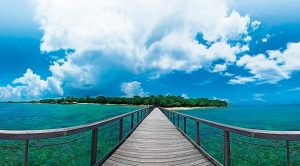 Tanjung Lesung is one of the best beaches in Banten, West Java. On this beach tourists will get beautiful scenery like coastal coast of Indonesia with a stretch of white sand that stretches wide. Tourists can also enjoy the temperature and fresh sea atmosphere with a cool breeze, waving, and also calm the mind. White sand on the beach is very long. This long coastline can be used to play beach volleyball, play sand, or enjoy the ocean atmosphere freely and freely.
(You can see this too : 15 Picturesque Things to Do in Cilegon Banten)
The advantages of this beach is the position of the beach is different from other beaches. Tanjung Lesung's position is facing the open sea. This can make tourists feel the wind blow freely and enjoy the waves directly as well. However, these beach waves tend to be safe for swimming. In fact, tourists can enjoy this beach with various activities.
Heavenly Things to Do in Tanjung Lesung Beach 
Here are some fun activities that can be done on this beach. Such as :
Enjoy watersport
One of the reasons why this beach is called similar to the beaches in Bali and Lombok is because on this beach there is a lot of watersport. Tourists can enjoy water sports such as jetski, banana boat, and many more. Watersport there will remind tourists with Tanjung Benoa in Bali.
Enjoy the sunrise
There are many things to do in Tanjung Lesung beach. Because it is a promontory, this beach is perfect for enjoying sunrise and sunset. The sunrise on this beach is very charming and beautiful, not inferior to the beaches in Bali or Lombok. Tourists can hunt for sunset photos at the right time.
Enjoy the sunset
In addition to sunrise, sunset can also be enjoyed from this beach. The beauty of the sunset there will look very exotic. The difference between Cape Lesung sunset and sunset at other beaches is due to the presence of the mountain scenery of krakatau mountain boy, which is a mute witness of the infamous explosion that is famous until the corners of the world.
A culinary tour
On this beach, tourists can enjoy a variety of processed seafood foods sold in many places to eat or a restaurant that stood there. So, tourists do not have to worry about starving, because the culinary facilities there are very good and delicious.
Fishing
Tourists who like fishing can also fish and enjoy his hobby there. This beach has a spot that can be used for fishing. Tourists can bring their own fishing equipment and rent fishing equipment in Tanjung Lesung.
Snorkeling or diving
The beauty of the underwater coast is also very beautiful with natural reefs that spoil the eye. Tourists can enjoy the underwater beauty with snorkelinh or diving. However, the best snorkeling or diving spot is around Liwungan Island, so travelers must cross first.
Water play on the beach
Because the beach waves tend to be calm and safe to use for swimming, tourists can freely enjoy the water and play water along the beach. Tourists can play sand, swim, or play volleyball with friends or family. Thus, tourists will get a very enjoyable travel time.
Conservation of coral reefs
There is also a coral reef conservation center. Tourists can try and learn about coral reef conservation practices on this beach. Thus, this beach can be an alternative educational tour of coastal and islands in coral reef conservation is quite good in Indonesia.
Seeing a fire dance show
At certain times, on this beach there is also a fire dance show. Tourists can enjoy the atmosphere of the show on the beach with fire and light dancing. This will provide a valuable experience for travelers. Such performances are also rarely present at other beaches.
Stay
Travelers who want to stay can also rent lodging. There are several hotels, homestays, resorts, and even beach villas. Tourists are free to choose what kind of lodging and at what price. The price of lodging on this beach ranges from Rp 100,000 to Rp 2,000,000 each night
You may also see :
More Things to Do in Tanjung Lesung Beach 
Take beautiful Instagramable photos
Tanning
Relaxing
Screaming and swimming
Get yourself in heaven
What's more things to do in Tanjung Lesung beach? Man! You can just explore yourself in this beautiful beach!
Travelling Tips to Tanjung Lesung Beach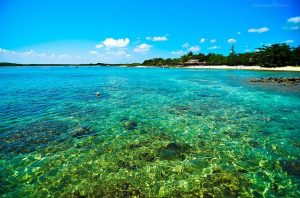 For tourists who want to save money, it is better to use the package tour Tanjung Lesung. Currently many travel agency services that offer tour packages Tanjung Lesung with affordable prices and more practical. If using tour packages, then tourists will be easier to do the tour and do not bother to prepare everything for a holiday in Tanjung Lesung. Tanjung Lesung tourism package usually includes dining facilities, camping facilities, some waterport, complete with snorkeling under the sea of Liwungan Island.
Another case if tourists travel independently without a travel agent, then the cost should usually be more expensive. In addition, to cross over to Liwungan Island, they have to pay a boat more expensive or more difficult to get a boat to cross. But if tourists do not want to join the package of travel agents, then it all depends on the respective tourists.
See this : Points of Interest in South Tangerang