Pari Island has some beautiful and charming beaches that you can use to play and swim. It is also safe for adults and children. Perawan sand beach, kresek beach and bintang beach are the beaches that are the main attraction in Pari Island. You also can go to Padar Island, These are the thing to do in Padar Island.
This place can be your alternative choice for rest one day. Other than the beautiful beaches, Pari Island also has some best spots for snorkeling that have coral reef plantation. So, what we can do in this island? These are things to do in Pari Island, they are:
Enjoying the view of white sand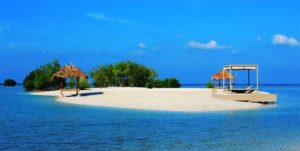 The beaches in Pari Island was known to have white sand where if it highlighted by sunlight the sand will be sparkling. In the Pari island, you can spoil your body by doing sunbathe with a beam of sunlight that is not too hot.
The visitors also can follow the shoreline with the family or person. The nuance of white sand beaches combined with the clear sea water is certainly an atmosphere that you must not pass by visitors who come to the Pari Island. Many visitors use the white sand of Pari Island to relax while enjoying the views of the vast clear sea in front of them. Other than Pari island, you also come to other island in the best islands in thousand islands jakarta.
2. Swimming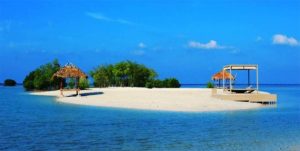 This island has a row of beautiful beaches, clean white sand that vast, blue sea water, making swimming in Pari Island beach is one of the interesting things that definitely visitors must try. Several small islands scattered in Pari Island beach that makes swimming more exciting. The depth level of the beach can also easily be seen. If the sea water is dark blue, it means the beach have a depth about 2-5 meters. However, if the sea water is still has graded white and turquoise, its depth is about 1-2 meters. Not only swim, the visitors also can relax while enjoying the sunshine in Pari Island's coast.
3. Exploration In Pari Island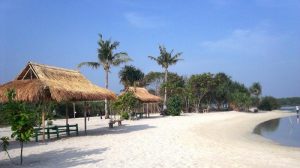 Want to explore something in a different way? Ride a bicycle can be traveller choice. Ride a bicycle around the Pari Island is also one interesting and fun things that can be done here. Ride a bicycle with the distance about 1.2 kilometers – 2 kilometers become one of the favorite's activities of tourist who come here. The visitors don't have to bring their own bicycles, in this island, there is bicycle rent that can make you rent these bikes.
4. Trying local culinary
If you come to this place, specialties culinary of Pari Island ought to the visitor try. Various row of food stalls and restaurants on the Pari Island beach will present the visitors the variety of seafood .Culinary tourism is fitted when the visitors already started hungry after the exploration in Pari Island. For the price, do not worry, because the price of food and dishes here are quite friendly with the backpacker. Other than that, you also must try remarkable things to do near gunung kawi
5. Playing Watersports
Still in Pari Island, Perawan sand beach offers a variety of water sports that the visitors can enjoy when they come there. The visitors can enjoy a variety of water games that are available within 60 minutes – 90 minutes.
The visitors also do an exploration by using a canoe, or challenge the adrenaline with banana boat. Those are one of the various water games that you can try. Pari Island can be regarded as a complete adventure spots, because of its natural beauty, as well as games that can challenge the adrenaline.
6. Ride a boat in Mangrove Forest
Snorkelling spots that can not visitors unnoticed is in the mangrove forest Pari Island. However, to make more exciting, the visitors can explore the mangrove forests by renting a small boat, and rowed along the mangrove forests.
Mangrove forests in Pari Island is used to resist abrasion from the beach. Then, the mangrove forest also serves to apprehend the large and strong waves from the open sea, before it comes to the edge of the beach in Pari Island. Mangrove forests in Pari Island also has a great view and a beautiful panorama. Thus, the visitors who have a hobby with photography, this spot is one photogenic spots. If you want more information about places that suitable for selfie, you can read instagramable places in yogyakarta
7. Snorkeling in Pari Island.
Other than swimming, in Pari Island the visitors also can snorkel. There are various snorkeling spots are located around Pari Island. Hard and soft coral reefs, as well as a variety of marine life, become excellent view that you must not pass.
Some snorkeling spots located around Pari Island, such as Burung Island, Tikus Island, and Shipwrecks near Pari Island pier. Those are snorkeling spots where many visitors visited. Colorful fish is the main sights there.
8. Knowing about marine life
Well, this is fitting for the children anyway, there was a place on the shoreline that close to Bintang Beach. In this place is made a sort of pool that contains some marine life that is precisely maintained, such as stingrays, turtles, starfish and sea urchins.  If you come to Jakarta and don't know where to stay, this is the best luxury beach resorts in Jakarta
Access to the Pari Island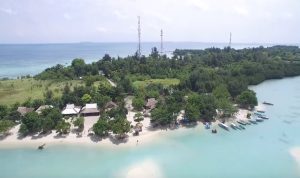 The Pari Island can be accessed by regular speedboat that takes about one and a half hours at the Marina Ancol pier. If you come to Ancol, these are things to do in Ancol Jakarta beaches .This is is available every day. The visitors can also rent a boat for those who bring a group which can be adjusted with passenger capacity of the ship, although the cost a little bit more but a trip to the Pari Island will feel more secure and comfortable.
The Price in Pari Island
Tickets speedboat from Marina Ancol to Pari island: Rp. 150-175 thousand / person.
Tickets timber ships from adem muara angke to Pari Island: Rp. 40 thousand / person.
Admission tickets of Perawan sand beach: Rp 5 thousand
Admission tickets Bintang beach: Rp 5 thousand
Admission tickets Kresek beach: Rp 5 thousand
Bicycle rental: Rp 20 thousand
Snorkeling equipment rental: Rp 30 thousand
Snorkling boats rental: Rp 400-600 thousand.
Water games or banana boat: Rp 30 thousand / person
Homestay rental: Rp. 500-800 thousand / night
Explore Mangrove with small ship: Rp. 15 thousand / person
Guide service: Rp 150 thousand/ day
So, that's all the best things to do in Pari Island Indonesia! Enjoy the great nature!