Introduction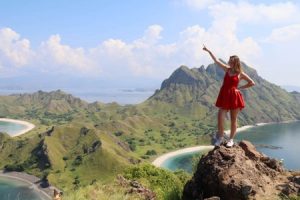 Before we explore the amazing things to do in Padar Island, let's look at a glimpse of Padar Island. Padar Island is located at East Nusa Tenggara. The capital of East Nusa Tenggara is Kupang located on the West Timor Island. East Nusa Tenggara has about 550 islands. The three main islands of East Nusa Tenggara are Flores Island, Sumba Island and West Timor Island. East Nusa Tenggara, like regions in Eastern Indonesia, has an exotic nature. Its beauty is a combination of tropical nature and savannah.
Padar Island is the third largest island in Komodo National Park after Komodo Island and Rinca Island. For your information, Komodo National Park is established in 1980 and has been declared as a World Heritage Site by UNESCO in 1991. At first Padar Island was less known compared to some other popular destinations in East Nusa Tenggara such as Gili Laba and Pink Beach. But thanks to Instagram, Padar Island began to rise to reach fame. The hashtag of PulauPadar or PadarIsland increasingly appears in social media.
In fact it seems almost everyone who comes to East Nusa Tenggara would make the time to immortalize themselves on one of Padar Island's hilltops. Although the Padar Island is quite far from the port city, it does not stop people getting there to take beautiful photos for their instagram, so much so that they will do everything to look perfect in their selfie.
About Padar Island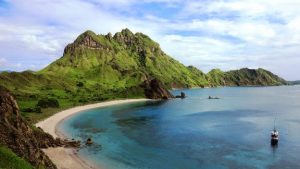 Padar Island is an uninhabited island in Komodo National Park area. It is one of the UNESCO world heritage sites along with Rinca Island, Komodo Island, and also Gili Motang. The island has hilly contours that are green in rainy season and brown in dry season. They look in contrast with the surrounding blue sea.
The Padar Island is quite far from the port city Labuan Bajo. As one of the islands in the outer cluster, it takes about 3.5 hours to reach this island. But there is no need to worry of the possibility of a boring journey. The trip to Padar Island is full of fun. You can enjoy the beauty of the various islands scattered in the blue sea. You must take full advantage of it. Take as many photos as you can and share them on your instagram. That is the essence of traveling these days. After all, what's the point of having beautiful photos if you do not show them off to your friends.
The Padar Island has a shallow beach. Therefore, the ship can not get closer to the beach. The ship will release its anchor a few hundred meters from the shore and you have to jump to the lifeboat and rowing it to land on the Padar Island.
Things to Do in Padar Island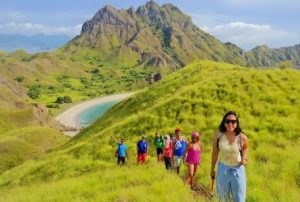 As you expect, the beach has beautiful white sand. But to enjoy the beauty of the Padar Island, you must climb to its highest peak. Make no mistake, the hills will test your physical strength and determination. Your path to the top almost resembles a straight line. There is no long and winding road.
Fortunately this is not a race. So if you are tired while you are on your way to the top, there is nothing wrong to rest and catch your breath to restore your energy. Don't push yourself too hard. Under normal circumstances, the climb takes about 30 minutes.
Certainly in the end all your sacrifices will not be in vain. It is the right thing to do. Upon arrival at the summit, a breath taking view will greet you. The hills are rising here and there. White sand in the distance is soothing to the eye. The sea breeze brings peace and serenity. And the vast blue sea shows how small you are in nature.
Climbing up the hill inarguably forces you to sweat. But who would have thought down the hill also needs extra effort. The steep climb makes the path down to be steep as well. The gravel path also makes the track down is challenging and even make you easy to slip. You should walk slowly and hold your weight as hard as you can. Once you get to the beach, there is no harm in plunging into the sea to cool down and relax.
How to Get There
There are several ways to get to the Padar Island.
The first is through Labuan Bajo. This is the most common place to start your journey to explore Komodo National Park. If you want to do one day trip, you can start from here. There are also several tour operators that offer live-aboard. It means you are living aboard a large wooden sailboat.
Another way is to depart through Lombok or Bali. Don't worry. You will easily meet travel agencies that serve Padar Island tour.
Useful Tips for Your Own Sake
It's literally for your own good.
Use a sun block with SPF of at least 50. Always apply it every 3 hours. Unless the weather is cloudy, the sun is super scorching.
Bring hats, sunglasses and handkerchiefs or small towel.
Wear shoes because it is safer and more comfortable. It would be better if you wear trekking shoes.
Bring any kind of camera. You'd better bring waterproof case for your smartphone as well.
Bring plenty of water because the journey must be tiring.
Make sure you are in good shape. Or at least you can walk for one hour.
If possible, avoid exploring the Padar Island in the middle of daytime because the sun will burn you to death. Climbing under the intense heat is exhausting, more over for an amateur climber. After all, we are just an average tourist.
It would be better to arrive in the morning or afternoon. The sunrise or sunset view on Padar Island is second to none.
Ok guys, now you know the things to do in Padar Island. No doubt the island has instagramable panoramic view. Let's visit Padar Island, East Nusa Tenggara, Indonesia..!