In the previous article, we went to the area of Sulawesi island to find all the wonderful things you could find when actually vacationing in the island of Sulawesi. Now, we want to go a  little bit further from there, the Maluku province, there are several areas that already been covered in our article, like things to do in North Maluku.
Also, the capital of Maluku, which is Ambon, has several best things that you can find in the things to do in Ambon. And what we should talk about right now? We want to explain to you about the beaches inside that area of Ambon. So, here is our article of best beaches in Ambon that you must visit !
1. Pintu Kota Beach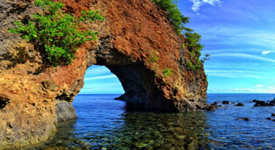 The first one on the list of best beaches in Ambon is the Pintu Kota Beach. This one looks exactly like the beach in Bali that has this kind of hole on its cliff. The best thing about this beach, and also other beaches in here, is the free administration ticket, so you can enter this place without paying anything else.
On the beach, you can also enjoy some huts that available in here to be resting place for you and your family. The beach itself is pretty simple, only compleyed with its soft sand and several wonderful diving spots. It's up to you to explore them.
Location : Nusaniwe, Ambon
Tips : Bring your own diving or swimming equipments, because there is no single rental in here
2. Natsepa Beach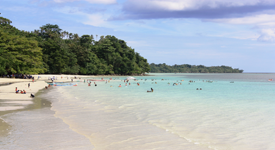 Next one is Natsepa Beach, which is located in the area call Suli, in Salahutu, Maluku. Different from beach above, this beach is considered as a crowd one, because in every weekend, there will some people either from the area or outside.
Some facilities are more complete in here. On the beach of Natsepa, you can rent a boat and then just exploring the whole area, the sea ecosystem by directly see them from the boat, or just jump in to the water.
Location : Suli, Salahutu, Maluku
Tips : Because this is considerably good place, it's very recommended for family trip.
3. Nanseri Beach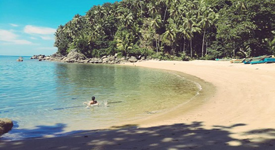 One of the hidden beaches in Indonesia, that located in the land of Ambon, is this Nanseri beach. If you see the beach on the ground, you can notice that this beach looks like usual beach, completed with some coconut trees around it.
But, once you got in to the sea, you can finally understand how wonderful this place is. Saving a lot of beautiful corals and fishes, this beach is really good for divers and swimmers. And it also supported by how clear the water in here.
Location : Kilang village, Maluku
Tips : Again, make sure that you bring your own swimming equipments
4. Santai Beach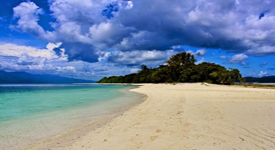 Santai means relax in Indonesia. And that relaxation is the thing that you absolutely get once visiting this area. Exists as one of the breathtaking places in Indonesia, Santai beach has several things to show to you. First, the vast sand that you can even do some sports on it, like soccer.
The things to enjoy in this free beach, are snorkeling, diving, and doing some sports on the ground. Because the locations is rearely get crowded, you can your mates can feel the exclusiveness of this location, which is very good thing.
Location : Ambon, Maluku
Tips :
5. Hukurila Village Beach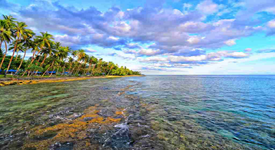 In a village called Hukurila, Ambon, there is this little village that has the same name with the village. The location itself is popular actually, becuase of the existence of the sea caves beneath the water. For some expert divers, this is really great opportunity to see them.
They said, the caves filled with creatures called Sea Rabbits. That why so many people tried to swim deep enough to be able to reach them. Well, if you're considerably good at diving, maybe you should give a chance to this location.
Location : Banda Sea, Ambon
Tips : Be careful when swimming in there though, because the caves are little bit deep.
6. Pombo Island Beach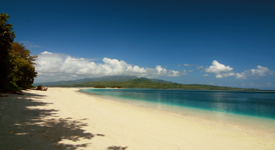 In Ambon, there is also one exclusive island that everyone can visit, called Pombo Island. This island is pretty easy to reach, by using boats from the nearest port in Ambon. So here are some of the facts that may even surpass best beaches in Kalimantan.
The water in here is very beautiful, having the gradation colour of green and blue. Also, in several occasions, you can meet the unique bird, Pompo, on this  beach. They are the only birds that can be found in the area of Ambon. 
Location : Waai, Salahutu, Maluku
Tips : Be sure to visit the beach in the morning or day.
7. Pasir Panjang Beach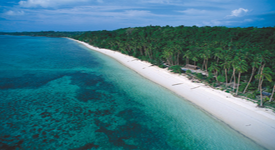 One beautiful and easy to reach beach is Pasir Panjang. This beach is actually located in small village called Ngilngof in the west side of Wei island. It's easy to notice this beach, because it has about 5 km wide sand.
The sand itself is so soft, almost like flour. So it's very safe to children. The water condition and the waves are pretty friendly, you can go swimming in there without worry. Also if you lucky enough, there will be some coconuts that you can eat.
Location : Ngilngof Village, west of small Wei island
Tips : Having some friends in this place is one of the best experience you can get.
Surprisingly enough, there are not only 7 beaches that exist in the area of Ambon. So many of them are also hidden, and a little bit hard to recover. But don't worry, we got you. By seeing these beaches left in the best beaches in Ambon, hope you can settle a new destination for your journey.
Hunimoa Beach
Namalatu Beach
Sopapei Beach
Lelisa Beach
Namasua Beach
Liang Beach
Lawena Beach
Pawete Beach
Collins Beach
So that is our article for today, the best beaches in Ambon. Maluku island is indeed a great alternative for you who want to enjoy wonderful natural attractions without being interupted with many crowds and busy condition like in the cities.
But first, you need a little effort to be able to come there by yourself. The first thing you should do is preparing your budget for the boat services and renting villa or guest house. And also don't forget to spare some more to enjoy the culinary that exists in Ambon. Both culinary and tourism are top notch.