Eastern Indonesia has been very famous with the marine tourisms. You might know one of the best, Raja Ampat in West Papua which people often ask why Raja Ampat is famous. Actually you can find many more beautiful marine destinations in eastern Indonesia, such as in Maluku. These are 7 of marine tourism in Maluku!
1. Ora Beach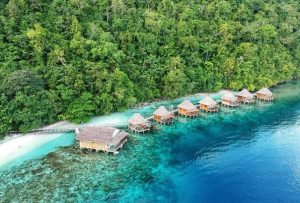 In Seram Island, Central Maluku, there is a very beautiful beach, it is Ora Beach. The famous part of Ora Beach is its amazing underwater park. The beach and water are also clean. Some people say Ora Beach looks similar with beaches in Maladewa.
You can prepare many things to do in Ora Beach Maluku. To see the beauty of its coral reef, you just have to dive about 2 to 3 metres. Besides diving, you can also do snorkeling here.
Ora Beach is located next to Saleman Village and Sawai Village. It is also at the edge of Manusela National Park forest. You don't need to pay for entrance ticket, and there is Ora Beach Resort if you want to have some nights there. It is a good choice for you who need calmness.
2. Ngurtafur Beach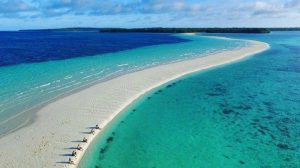 There is a unique beach in Southeast Maluku Regency which the beach sand can be seen only when the sea water is receding. It is Ngurtafur Beach.
There are no trees here, just beach and sea water. The white sand can be seen clearly with the length reaches 2 kilometres when the sea water is receding.
The sea water in Ngurtafur Beach looks blue and very clear. Sometimes you can find some herons are having a rest after seeking for fishes.
If you are lucky, you can even see a group of sea turtle, and also the oldest sea turtle in Ngurtafur Beach named tabob. If you are planning to come here, do not forget to prepare your own supplies. It is because this area is unpopulated.
3. Dodola Island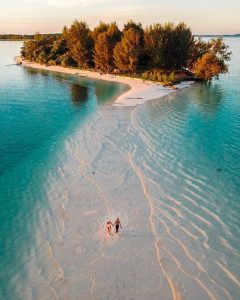 Did you ever hear an island that is called the pearl on pacific lips? That is Dodola Island in Morotai, North Maluku. Since it is called a pearl, this island must be so beautiful! Visiting here is one of must things to do in North Maluku. It originally consists of 2 islands, Big Dodola and Small Dodola.
These two islands are only separated in 500 metres away.When the sea water is high, these two islands look like an island. Otherwise, when the sea water is receding, they will be separated again. You can see Dodola Island becomes two islands around 10.30 to 19.00.
There are many things you can do in Dodola Island, such as diving, jet ski, fishing, and snorkeling. If you do diving you might see some shipwrecks under the sea.
If you are planning to have some nights, there is also a cottage to stay. Another important thing about Dodola Island is, there is still no electricity, but telephone signal can still function there.
4. Cape Bongo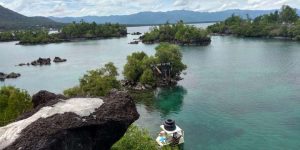 In Galega Subdistrict, North Halmahera, there is a marine tourism which peole often say as the twin of Raja Ampat. It is Cape Bongo. It is actually smaller than Raja Ampat, but the beauty is also as amazing as Raja Ampat.
Cape Bongo is never empty of visitor, especially on holiday. One of the most attracting things here is the photo spot. There are at least 20 spots you can explore for taking photographs.
Besides taking photographs, you can also do diving and snorkeling. It will be fascinating since the sea water looks green. You can even see the coral reef eventough you are not diving because the water is very clear. But for diving and snorkeling, it can only be enjoyed in some particular days.
5. Kupa-kupa Beach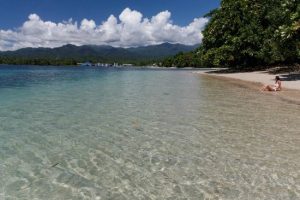 You have known about Ora Beach where you can get calmness. There is also another beach to get calmness and beauty of marine paradise at the same time. It is Kupa-kupa Beach. This beach is located in Kupa-kupa Village, North Halmahera, North Maluku.
What makes this beach very calming is that the stream of the sea water is very calm. Kupa-kupa beach is surrounded by Banyan trees around the beach. There are also many beautiful coral reef here.
6. Guraici Beach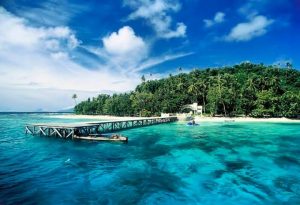 Indonesia is passed by equator. In South Halmahera, North Maluku, there is a beach that is located right at the equator, that is Guraici Beach. You may be able to imagine how hot the weather is.
Although there must be so hot, but Guraici beach is very popular to foreign visitors and divers. The word Guraici itself is from the words gura and ici. Gura means garden, while ici means small.
You can do diving and snorkeling here. You can also catch and grill some fishes, this is one of the best fishing spots in Indonesia. It is also possible to stay overnight, but the electricity is limited only from 18.00 to 24.00 since it only relies on small generator set.
If you are planning to come here, it is recommended for you to come on July because there is Guraici Festival every July. In this festival, you can see some performances, such as soya-soya dance, angel dance, cakalele dance, etc.
7. Sulamadaha Beach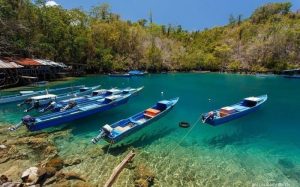 The last one is the most famous beach in Ternate. It is Sulamadaha Beach located in Hol Sulamadaha Bay, North Maluku. Coming here is one of top things to do in Ternate. This beach is also popular among foreign visitors.
The beach is surrounded by some cliffs. Once you enter the beach there will be footpaths head to Saomadaha, which is a small bay with a very clear water.
Sulamadaha Beach is usually crowded on weekend. There is no entrance ticket. The activity here are managed by local people. So if you want to do diving for example, you have to prepare your own equipment.
There are 7 amazing marine tourisms in Maluku. They are just like marine paradise, right?