Sukabumi is located on the southern part of West Java Province, about 3 hours from Bogor or Bandung and 4 to 5 hours from Jakarta. The city is directly adjacent with Hindia Ocean which usually has strong waves coming to the shore.
There is a bay called Pelabuhan Ratu where many beaches are lined up on the coastline. Many people come to Sukabumi to visit Pelabuhan Ratu as one of best 7 beaches in West Java.
But actually Sukabumi has many beautiful beaches other than Pelabuhan Ratu. Let's check 10 beaches in Sukabumi worth exploring below to give you more reason to visit Sukabumi.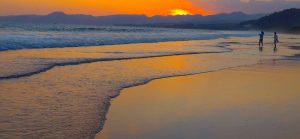 It is located at Cisolok Street, near Pelabuhan Ratu area. The location is right next to the main road, so many people stop by to see beautiful sunset in the afternoon or to have a meal on the food stalls. In Citepus beach, the visitors are allowed to swim on the sea, but with paying more attention to safety since the waves are quite high.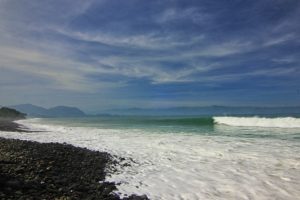 Cimaja beach is located in Cimaja Village, Cikakak Sub-District. It is 3 to 4 hours trip from Jakarta. Instead of sands, you will see many big stones scattered on the beach. To enter the beach, you need to pay IDR 5.000 for the parking lot managed by the local community.
The waves are good for amateur surfer, so the locals call the beach as the Bali of Sukabumi. According to Cimaja surf accommodation and itinerary, you can also find a surfing course for beginners provided by the locals surfers.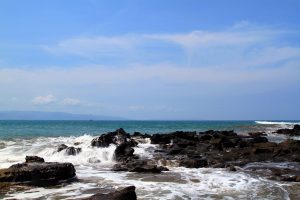 Many people say that Karang Hawu is the most beautiful beach in Sukabumi. White sands, stones, corals, surrounded by the hills are perfect to spend your day off.
The location is at Bayan Street which connects Sukabumi with Banten Province. 1 hour to the west from Karang Hawu, you will arrive in Banten and have a chance to enjoy wonderful beaches to explore in Banten.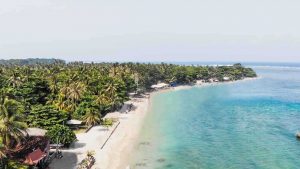 It is another infamous beach in West Java you have to visit. From Surade in Sukabumi, you still need to ride 45 minutes trip to Ujung Genteng.
The beach offers white sands and clear water surface which allows you to see small sea creatures like baby crabs, shrimps, small fishes, and starfish under the water if you are lucky.
There is a shop for snorkeling activity near the resort. Ujung Genteng might not be one of best snorkeling spots in Indonesia, but it is still worth visiting when you come to Sukabumi.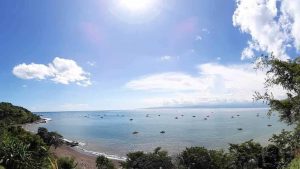 Minajaya beach is located about 6 kilometers from Surade. The beach is originally a rest area for the fishermen in Sukabumi.
Many fishermen come and go bringing the captured fishes to fish market in Pelabuhan Ratu and Minajaya is the place where they spend the rest of the day before going back to the sea.
There is a fisherman village not far from the beach. The residents are usually busy to look for seaweed and other seafood which are abundant in Minajaya beach.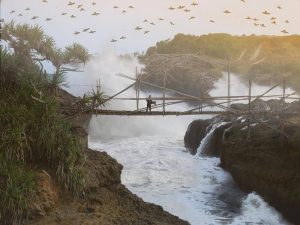 Cicaladi or Karang Bolong beach is located in Sukatani Village, about 30 kilometers from Ujung Kulon National Park. It's best if you come to this beach in the morning before the high tide comes.
Cicaladi has huge corals and greeny hills surrounding the beach. The view is beautiful, but swimming is forbidden since the waves are high. The highest wave usually comes at noon to evening that can reach 15 meters above the surface.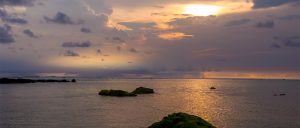 Located in Pangumbahan Village, Ciracap Sub-District, Cibuaya beach is popular destination among local tourist. The beach is easy to reach from Sukabumi. It has relatively low tides and plain slope so many people come here with their families. Swimming is allowed as long as the waves and winds are calm.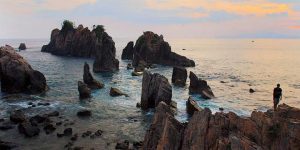 Batu Naga or Dragon Stone beach is a popular destination inside Ciletuh National Geopark, one of the amazing national geoparks in Indonesia. The name comes from a stone hill that formed from sedimentation since millions years ago.
Many scientists come to Batu Naga to do geology and archaeological research. But for general visitors, the main attraction of the beach is on its big corals scattered on the beach.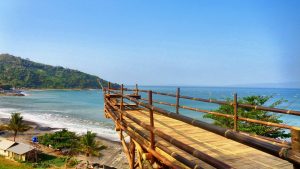 Cikembang beach is in Pasir Biru Village in Cisolok, Sukabumi. It takes about 40 minutes from Pelabuhan Ratu to reach Cikembang Village. The waves are a bit high but quite friendly.
With its plain slope, Cikembang is one of the place to surfing. Many domestic visitors come to Cikembang beach to surf and buy fresh seafood from the locals in fisherman village not far from the beach.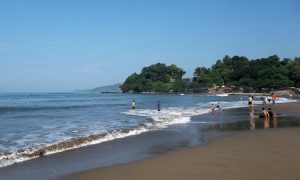 Karang Sari beach is the easiest beach to reach. It is located right next to Pelabuhan Ratu Terminal. The beach has complete facility and accommodation for visitors. Some water games are provided, such as banana boat, kayak, and boggie board. Karang Sari is the best choice if you want to visit the beach with your family.
Other than 10 beaches above, there are come more beaches in Sukabumi that are worth exploring, particularly the hidden beach behind Sukabumi mountain landscape that are not famous yet. While visiting the beaches in Sukabumi,you might as well explore Ciletuh National Geopark to experience complete natural attraction of the city.