Aside from 12 Top Things to Do In Sukabumi, the city has many natural attractions to visit. With many mountains and rivers, waterfalls are among the best destinations.
Since rain always falls throughout the year, the rivers are almost always filled with water, so there's always a waterfall ready to visit. There are the list of 6 popular waterfalls in Sukabumi to spend your summer holiday.
The locals use to call waterfall as curug that refers to water flowing down from the cliff and create a pond on the surface below. Curug Sawer is quite popular in Sukabumi. Located at Kadudampit Sub-District, Curug Sawer is a part of Gunung Gede Pangrango National Park, one of National Parks in West Java.
The water flows down from 35 meters high. Not far from the waterfall there is a camping ground provided with already-built wooden huts. From the parking lot in Situ Gunung Resort Gate, the visitors need to walk about 1,2 kilometers through a suspension bridge to reach the waterfall.
The entry ticket is a bit pricey which is IDR 50.000 to access the waterfall, suspension bridge, welcome drink, and Sundanese traditional welcoming dance. You can also choose the complete package including accommodation and traditional foods by paying IDR 100.000 to 125.000 per person.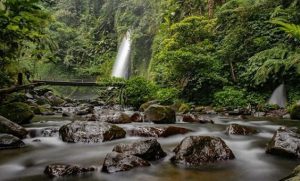 Located in Kampung Ciniti, Surade Sub-District, Curug Cikaso is surrounded by lush trees on all over the water stream and its pond. There are three main streams flowing down the ponds below: Curug Aseupan, Curung Menong, and Curug Aki.
The average height is about 80 meters with 100 meters width. It's the favorite local attraction in Ujung Genteng area. But the pond is quite deep. Some parts of the pond are 15 meters deep, so the visitors should be aware of which area are safe to swim on.
To reach Curug Cikaso, you need to travel 70 kilometers from Ratu Port or 110 kilometers from Sukabumi main area. If you come from Jakarta via Bandung, you should stop by at Culinary Spots in Bandung to taste Sundanese cuisine before arriving in Sukabumi.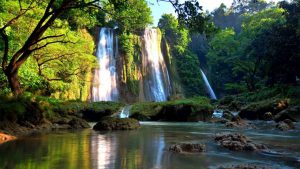 The waterfall is located in Kampung Lebak Nangka, Kerta Angsana Village, Sub-district Nyalindung. It is a popular destination for the locals to spend their holiday season. Bibijilan Waterfall falls from about 100 meters high.
Its clear water reflects the sky and turns the water into beautiful green color. The water current is relatively strong. It is suggested not to visit the waterfall during heavy rainy season due to abnormal strong current and flooding. If you are visiting Bibjilan Waterfall, you need to pay IDR 4.000 for parking and security service provided by the locals.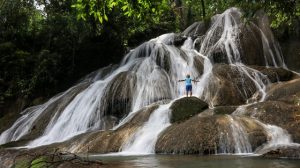 The waterfall is called Cikurutug since the water comes from Cikurutug river. The waterfall is located in Jampang Tengah Sub-District. From the main road you need to travel about 6 kilometers more to reach the waterfall.
Cikurutug Waterfall flows through the terracing area in the middle of rice field surrounded by the trees. The locals like to take a bath in the ponds below the waterfall. Since it is not a popular tourist area, there is no price charge to enter the waterfall.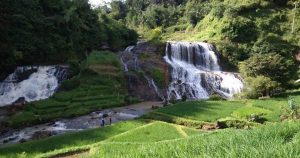 Curug Cikanteh is located in Ciwaru Village, Ciemas Sub-District. The area is inside Ciletuh National Geopark in Sukabumi Regency. To reach the waterfall, you need to go to Ciemas Village. The trip to Ciemas from Sukabumi needs about 30 minutes by car or motorcycle.
But getting close to location, the road is quite narrow and slippery. It's best if you trust an experienced driver to drive your vehicle. The waterfall itself flows down from 60 meters above, and is divided to 3 parts from the lower to the highest.
You can park your vehicle on the parking lot near the lower part of the waterfall. But you have to hike at least 10 minutes to enjoy the strongest water current flowing from the cliff on its highest point.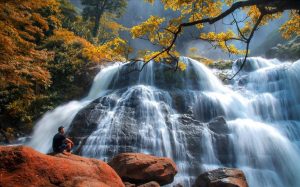 It is another waterfall in Ciletuh National Geopark, Sukabumi. Since it is still in the same area, Curug Awang is located not far from Curug Cikanteh. But still, you need about 50 to 60 minutes by walking because the road is narrow, slippery, and spiraled just like general mountain roads.
Curug Awang itself even becomes the trademark of Ciletuh Geopark because of its strong current falls down from an extra wide edge of a cliff. On a rainy season, the edge surface is filled with water storming down, making loud noises that you can hear clearly from about 1 kilometers far.
Curug Awang is popular destination among the locals and domestic visitors, included on the list of 7 Fascinating Waterfalls in West Java that Would Definitely Refresh Your Mind.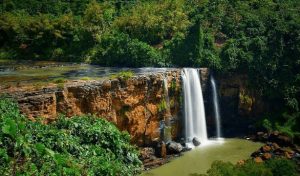 Mountains in Sukabumi are hiding many beautiful attractions just like those 6 waterfalls to spend your summer holiday. To enjoy Sukabumi, it is best if you have experience in mountain trekking because many natural attractions are located quite deep in the woods. Trekking towards waterfalls in Sukabumi can also become your training session before challenging wonderful mountains to hike in Indonesia for beginners.