Of course, of all the cties in Indonesia, we already talked about one ofthe famous ones called Bandung city. As you can see, you cna find so many unique things to do in Bandung, which consist of malls, natural atractions, and educational spots.
Bandung also have its best .what to buy in Bandung Indonesia After departing from your area to Bandung, certainly you'll land on the ariport first. And, some torists usually go for the nearest places first. And that's our topic for today, the spots or attractions that located around, included on our list of things to do near Bandung airport. You can see them all below :
1. Paris Van Java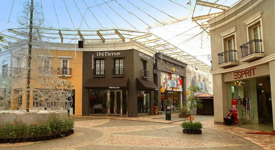 As the first place located near Bandung airport, we want to introduce you to the known mall, the famous one amongst the other malls in Bandung called Paris Van Java. Offering a new form of a building, which has the outdoor theme, Paris Van Java is one favorable mall for all people.
Inside, you can find so many stores of things, like clothings, accesories, electhronics, and even some romantic cafe in Bandung. Sounds inetersting, right? And that's why people really love the place. It's an unique western themed mall located not far from the airport. You only need to pay parking ticket to enter.
Locations : Sukajadi street 13
Tips : Better bring the complete members of family to this spot
2. The House of Mode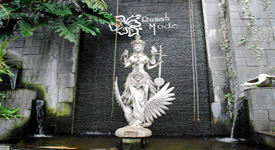 Serving as one beautful shopping center in Bandung, the house of mode is a factory outlet that really suitable for women, especially for the girls. Inside, they may find the shirts,and other clothings that have different colours motives, and brands.
The price is of course ranging, based on the type of the clothing. You can find the highest price more than a million rupiahs, on the other way you may find the thing that has the price half of it. Better to take a look more deeply first, before actually buying stuff.
Locations : Dr.Setiabudi street 41
Tips : Prepare some money to buy the exclusive clothing
3. Cihampelas Walk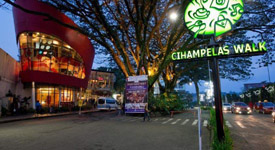 Beside the Paris Van Java, there's another mall located near the Bandung airport, called Cihampelas Walk. This Cihampelak mall located on the cihampelas street, which is only a few kilemeters from the airport itself.
It entitled as one of the shopping destinations in Bandung, because seeing how complete it is. Inside you can find basically all the things all you want, packaged in one place. Many people really like to spend more money to buy things, maybe you want to do it too.
Locations : Cihampelas street 160
Tips : Avoid to come here at weekend evening, because it's very crowded
4. Braga Street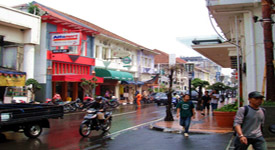 Looking for a free spot, which also located not so far form the airport? You can see this Braga street. The Braga used is indeed famous, for the people around and also the people which are considered outlanders. The street even used as the background for some Indonesian movies.
Moving from that fact, the Braga street filled with so many things. There are restaurants, musicians, and also the painting sellers that usually exists just beside the street. You will not be charged with anything to enter the street. For the references, you can find some benefits in things to do in Braga Bandung.
Locations : Bandung city
Tips : Don't forget to bring a camera with you
5. Saung Angklung Udjo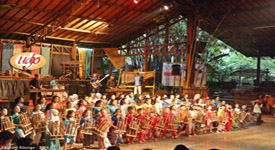 This one is also considered a famous place in Bandung, and because of that fact, the place is never empty. The place is the educational place about the Javanese musical instrument called Angklung. Here you can learn and be entertained by the music of Angklung, and also Gamelan.
With the entry ticket of Rp60.000,-, you aand your friends can enter the place, which looks so beautiful from the outside by its giant Angklung ornament, and the traditional interior. There's also a show in here that you must see.
Locations : Padasuka street 118
Tips : As a great educational spot for tourists, it's better to ask your friends, especially from other countries to come here
6. Geology Museum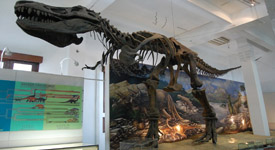 Another alterntaive for the educational spot, you can find the museum near Bandung airport. What kind of museum? It's the Geology Museum. As you can guess from its name, the museum is mainly filled with bones, either the endemic animals bone, and the dinosaurs.
Inside, you can witness the full body bone of A T-Rex and Mammoth. They are very astonishing, and of course can be shot by a decent camera. To enter, you should pay the Rp10.000,- administration fee. That price is nothing compared to the beautiful informatiosn within.
Locations : Diponegoro street 57
Tips : Great choice education spot for family and suitable for the students 
7. NuArt Park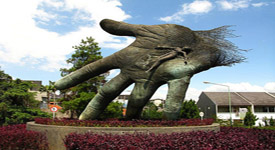 And finally, the seventh place on our list of thingd to do near Bandung airport is the NuArt Park. The park is not ordinary park you've known in many cities. This park is filled with so many statues, the unique ones that purposely placed on every corner, making the place more exclusive and sensational.
The entrance ticket is a little bit expensive though, which is Rp50.000,-. But, for the art lovers out there, especially for the people who have the passion of making statues, visiting this park would be a great experience and can be a reliable source of informations or references.
Locations : Setra Duta Raya street
Tips : It's restricted to use tripods and flash lamp here
After visting those even location, if yu want to get new experience visiting the spots or things to do near Bali aiport, you can also see these places below :
Bandung Great Mosque, the moslem's favorite place in Bandung
Bandung Station
Asia Africa Conference Museum, which contains a lot of information about its history
Trans Studio Bandung, the place which everyone loves
Santo Petrus Cathedral
23 Pascal Shopping Center, a place to hangout for teenagers
The Floating Market in Lembang
Pasar Baru Shopping Center, for getting the best price of clothing
Bandung Chinatown
And those are the complete list of the things to do near Bandung airport. As you can see on the paragraphs above, some of the places are free of visit, which is pretty good for the tourists out there to have sme fun first after arriving at Bandung by plane. If you happen to be that one tourist, you better read our list above, for the informations. Have a nice vacation!