16 Picturesque Things to Do in Pagaruyung Palace
After visiting the known island of Bali, we'll go to another island in Indonesia, to looking for its astonishing attractions. Now, we'll go to the great island of Sumatra. You can find so many wonderful things in here like things to do in Sibolga North Sumatra.
But, beside that, there's another spot that is very interesting to see, the Pagaruyung Palace. This place is one example of how rich the attractions in the area of West Sumatera. So, we want to introduce you to the list of the things to do in Pagaruyung Palace, which is also looks awesome just like the top things to do in Northern Sumatra. Check these places out !
1. Pagaruyung Palace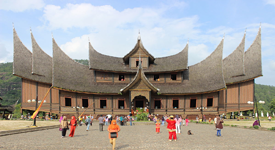 The first place to visit is of course the Pagaruyung Palace, the highlight of this article for today. This palace was burned in 2007, but then restored again to be the best attraction that is also looks very beautiful than things to do in Parapat.
With the enttrance ticket of Rp15.000,-, the visitors can enter the great palace of Minangkabau. Inside, you'll find a three level of building with ornaments on each stair that resembling the culture and art of Minangkabau.
Location : Batusangkar, West Sumatra
Tips : Taking pictures here would be a great idea
2. Batu Batikam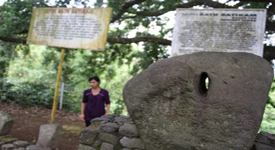 The next attraction is the Batu Batikam. At a glance, maybe there's nothing interesting about this stone. But, once you take a look at it carefully, you can notice the hole in the center of the stone. That's why this stone was named Batu Batikam, which means pierced stone.
The thing that used to pierce the stone was the legendary keris owned by Datuk Parpatiah Nan Sabatang. Around the stone, there are some stones that resembling seats, believed to be a place for gathering. This stone is also a proof of the Mataram Kingdom existence.
Location : Jenderal Sudirman 160 street, Tuo Village
Tips : Throwing trash carelessly is restricted in here
3. Van Der Capellen Fort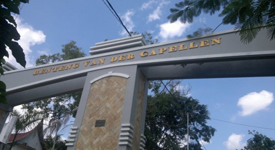 Many people coming to this Van Der Capellen Fort to learn about its history. The area of Sumatra was conquered by the Deustch. And the people or the locals in there were strugglig for their independence by fighting the army that completed with more advanced weaponry.
In this site, there's a story of the struggle between two different groups of people, the locals and the religious group. For you who have studied the war between the locals and Deustch would be very familiar with this story.
Location : Baringin, Lima Kaum, Tanah Datar
Tips : You can take some pictures on the front gate
4. Lembah Anai Waterfall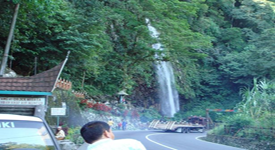 Beside the things to do in North Sumatra, the province of West Sumatra also has its best attraction, the iconic and wonderful one called Lembah Anai Waterfall. The waterfall which has about 35 meters high is actually a part of Batang Lurah Dalam river which coming from Singgalang Mount.
In this site, there are actually three different waterfalls. They completed with the best natural view that you can see in Sumatra. The two waterfalls are hidden in the forest, so they are a bit unknown. With the administration fee for about Rp2.500,-, anyone can enter the place.
Location : Singgalang, Sepuluh Kuto
Tips : Don't forget to bring your spare clothes, and a camera !
5. Mifan Waterpark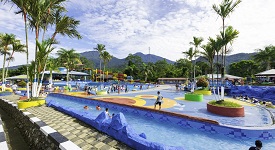 Mifan or Minang Fantasy is the next attraction on the West Sumatra province, Indonesia. This place completed with 18 different rides that suitable for the people of all ages. So, the kids, teenagers, and even adults can play in here freely.
The Mifan Waterpark said to be the second largest waterpark after Dufan in Jakarta, with its size reaching 9,8 hectares. This place is also completed with villas and resorts. Ticket cost is Rp40.000,- regular ticket or the Rp80.000,- which is more complete than that.
Location : Minang Kabau, Sutan Syahrir village, Silaing Bawah
Tips : You can buy the second ticket to be able to enjoy all rides in here without paying the additional cost
6. Tabek Patah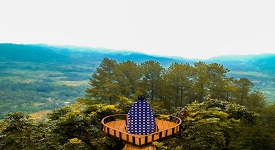 Aside from things to do in South Sumatra, in Sumatra island there are so many free attractions that you can visit. One of them is this attraction called Tabek Patah. The place is actually a hilly area where you can see the view of Bukittinggi and Batusangkar.
Because of the height, this place is pretty cold, especially in the morning. But, the view in there will amazed you, because of the clean air and the great view of the mountains that is very relaxing. Also, you can see the Pakih and Ai Taganang lakes from here. 
Location : Tanah Datar, West Sumatra
Tips : Don't forget to wear some jacket
7. Pato Peak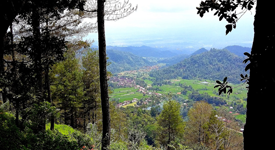 This place is also similar with the attraction above. Pato Peak is a very natural place, that only completed with green natural resources like the trees and the view of the rice fields. But, this place holds an important history.
Located in Lintau Buo, Tanah Darat, Pato Peak has a very interesting story about Imam Bonjol. This location was the his base, where he built a defensive fort against the Deustch army. But now, it's becoming an attraction that everyone can visit. With paying Rp5.000,-, visitors can go up to the Pato Peak and see the beautiful view around them.
Location : Tanah Datar, West Sumatra
Tips : There's not a single food seller in this place, so be sure to have some snacks first with you.
Other Things to Do in Pagaruyung Palace
Beside introducing to you the seven places around Pagaruyung Palace, we also have the other list that containing the rest of the things to do in Pagaruyung Palace. These places are also worth visiting, remembering that most of them are included as free attractions.
Balairuang Sari
Adityawarman Tablet
Gadang Balimbing House
Basurek Stone
Nagari Tuo Pariangan
Singkarak Lake
Batu Patah Hill
Ngalau Pangian
Mutiara Bay
So what do you think about this spot called Pagaruyung Palace? Does it look cool? Of course it is. It's so rare now to find a place that still filled with the culture that still looks so good and well maintained like this palace.
For you who want to spend your holiday in the different type of attraction, then visiting this Palace is can be a great choice for you. Aside from that place only, the rest of the locations that located around the building are also very good. There are many reasons to visit them, including the free entrance ticket.
The View of Batusangkar Palace
Pagaruyung Palace, Tanah Datar, West Sumatra