The beautiful and vast nature of Indonesia can be best enjoyed from an elevated height. This leads you to an adventurous journey where you need to hike the hills and mountains in order to get the views of the pictursque scenery. Your journey ends up at the top of Indonesia's exquisite mountains where stunning scenery lies before your eyes.
There are many mountains in Indonesia that you can hike for your adventurous journey. From mountains to hike in Papua, best mountains to hike in Bali, mountains in Central Java, to mountains in South Sulawesi. All are available, offering the best scenery of Indonesia for you.
But for now, let's go to the eastern side of Java island where East Java Province is situated. East Java is known for its beautiful nature that ranges from waterfalls, lakes, beaches, and of course, mountains. Your journey will not only lead you to the top of the mountains. You'll also find the beauty of the craters, lakes, surroundings, and so on.
We've gathered 7 best hiking spots in East Java that grant you the beauty of Indonesia. Make sure to prepare yourself with the energy and all equipment that you'll need for the hiking. Check the list out!
1. Mount Bromo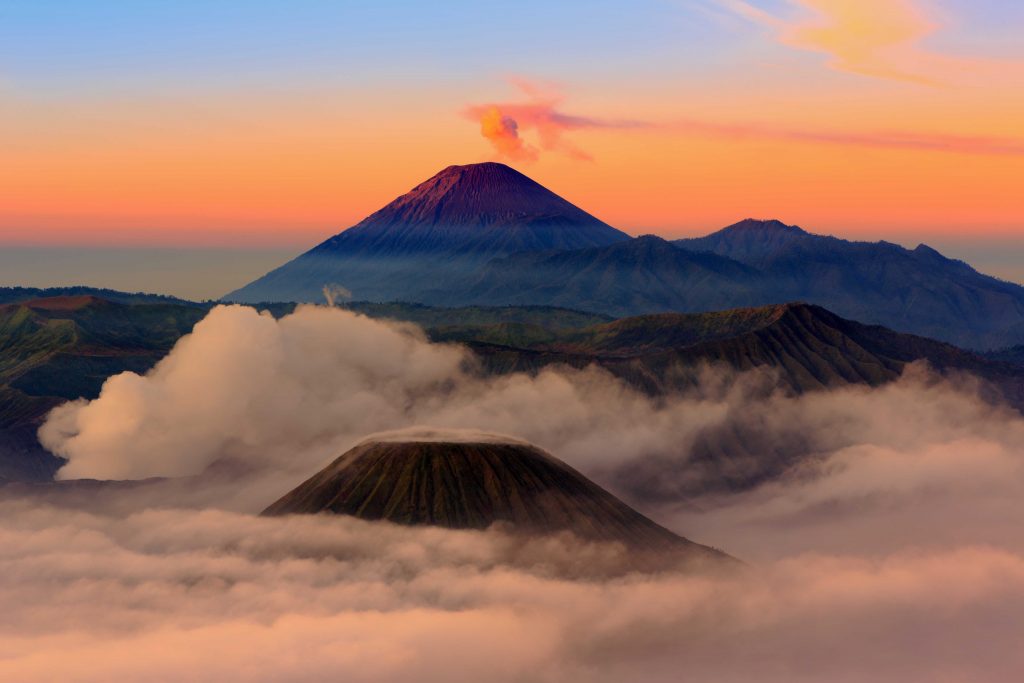 Situated in the Bromo-Tengger-Semeru National Park, Mount Bromo is situated at the heart of East Java. Mount Bromo is about 2,329 metres high.
When you go to the site, you'll notice a majestic view where 4 mountains are standing next to each other. They are Mount Bromo, Mount Batok (2,440 metres), Mount Penanjakan (2,770 metres), and Mount Semeru (3,676 metres).
Mount Bromo can be said as the most popular one out of the 4 mountains. Tourists come all year round in order to enjoy the beauty of the mountain itself as well as the view from above the mountain. Unlike other mountains in Indonesia, you actually have 2 options in order to arrive at Bromo's summit.
First, you can do that effortlessly by renting a jeep to reach the base, then continue by riding a horse. You only need to climb for around 15 minutes along the stairs to the crater. However, if you wish to have a more adventurous hiking, you can opt to just walk through the desert base of the mountain.
Mount Bromo is famed for the sunrise trekking tour and also the beautiful, visible stars at night, making it one of the most popular stargazing sites in Indonesia. For more guide, follow the ultimate guide to hike Mount Bromo, Indonesia to help you have the best experience on the hiking spot.
2. Ijen Crater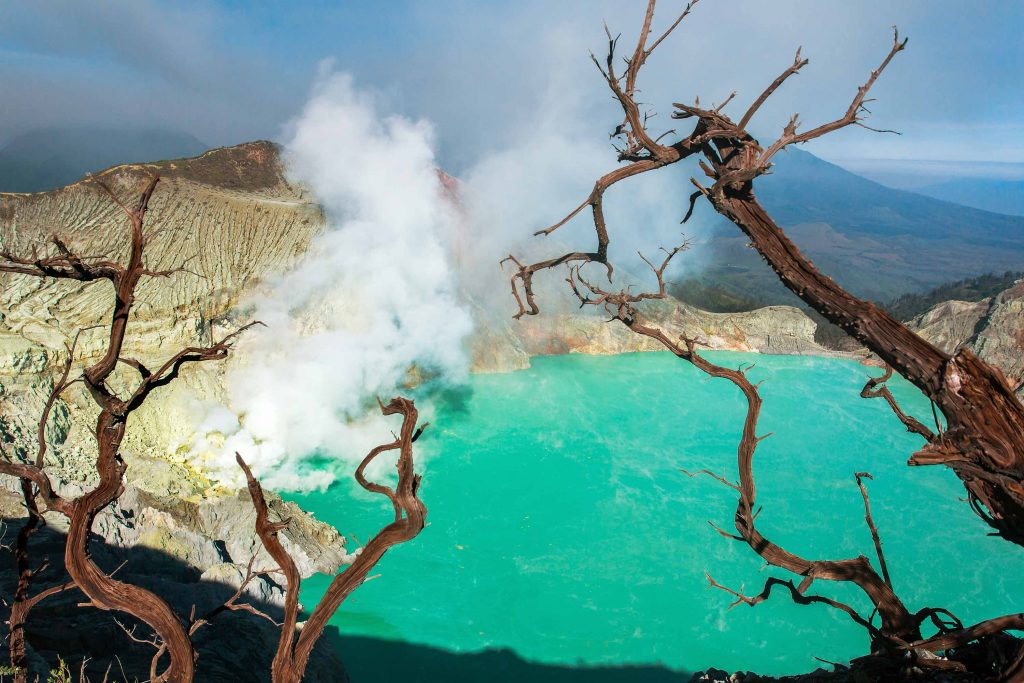 Located on the border of Banyuwangi and Bondowoso Regencies, East Java, Mount Ijen (2,443 metres) is best known for its "blue fire" in the Ijen crater or locally known as Kawah Ijen.
The blue fire is powered by the billowing sulfur fumes. Another attractive blue thing in this mountain is its turquoise crater lake that's about one kilometre wide.
The blue fire is burning inside the lake and is best visible at the night time. In order to view the blue fire, you need to start hiking at midnight so that you'll arrive at the caldera before 2 AM. Thus, you can watch the epic show of the electrifying blue fire that radiates from the lake. It lasts until before sunrise.
You can also buy carved sulfur sold by the local miners, so that you have souveniers that can remind you of the mountain. And even though it only takes 2 hours to arrive at the crater, the paths are rather rough.
Moreover, you start the hike at night, making it more challenging as your visibility is limited. Therefore, make sure you are well-prepared and are in a good shape.
3. Mount Kelud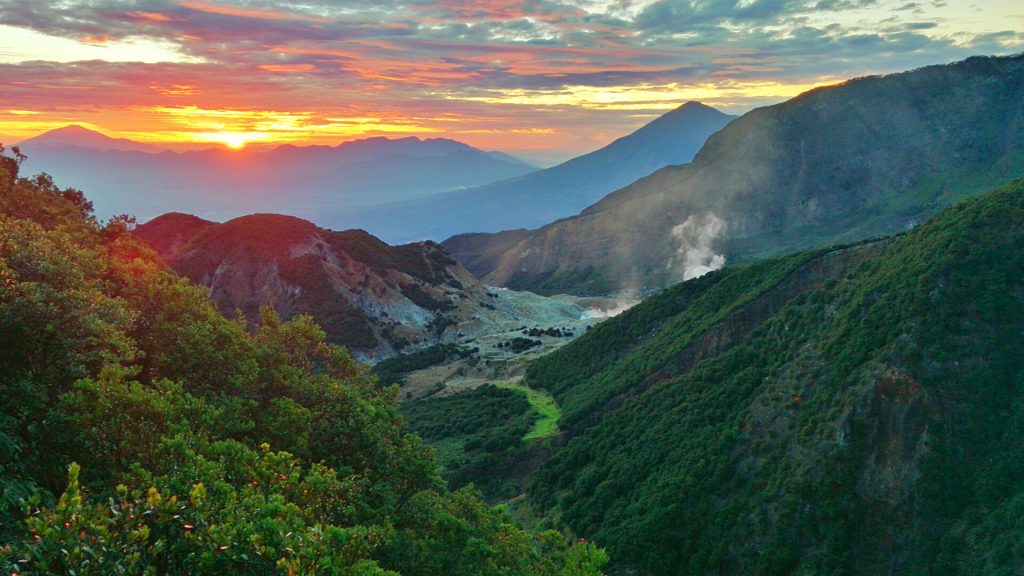 Mount Kelud is located in Ngancar District, on the border of Kediri and Blitar and is only about 1,731 metres high. Although Mount Kelud is not as tall as other mountain in the province, it's one of the most active ones. It's believed that Mount Kelud has erupted for 30 times since 1,000 years ago.
It was also closed in 2014 after the devastating eruption. For a more adventurous journey, you can hike from the basecamp in Tulungrejo Village, Blitar for about 4-6 hours before you finally arrive at the summit. The remaining impacts of the eruption is still visible right after you pass post three.
On your way up, the cool air, beautiful scenery, hilly valley, and the green lush will please your eyes. But near the crater, you'll notice that the temperature is hotter. That's why you'll need to prepare more water so that you'll keep hydrated.
4. Mount Raung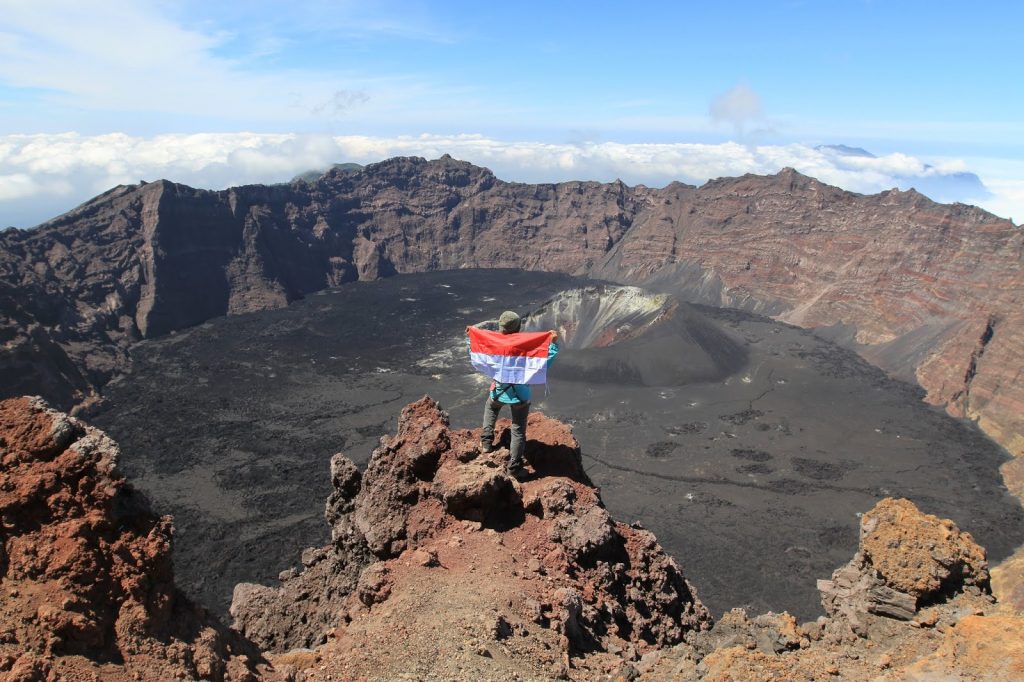 Mount Raung is the third highest mountain in East Java with the elevation of about 3,332 metres high.It's located on the border of three regions in East Java, which are Banyuwangi, Bondowoso, and Jember. The highest summit of Mount Raung is known as Puncak Sejati.
Mount Raung is known as the hardest one to hike in East Java that's clearly not intended for beginners that only want to have fun. It's because the trails mostly consist of steep, rocky trails. Further, there's no water source in the mountain. Thus, you'll need to bring sufficient water to keep yourself hydrated during the hike.
But, as other challenging site in Indonesia, hiking Mount Raung will grant you the beauty of Indonesia as your hiking journey will be accompanied by beautiful, green scenery right before your eyes. As you arrive at the summit, you"ll be also filled with proud as you can finish the challenge.
5. Mount Argopuro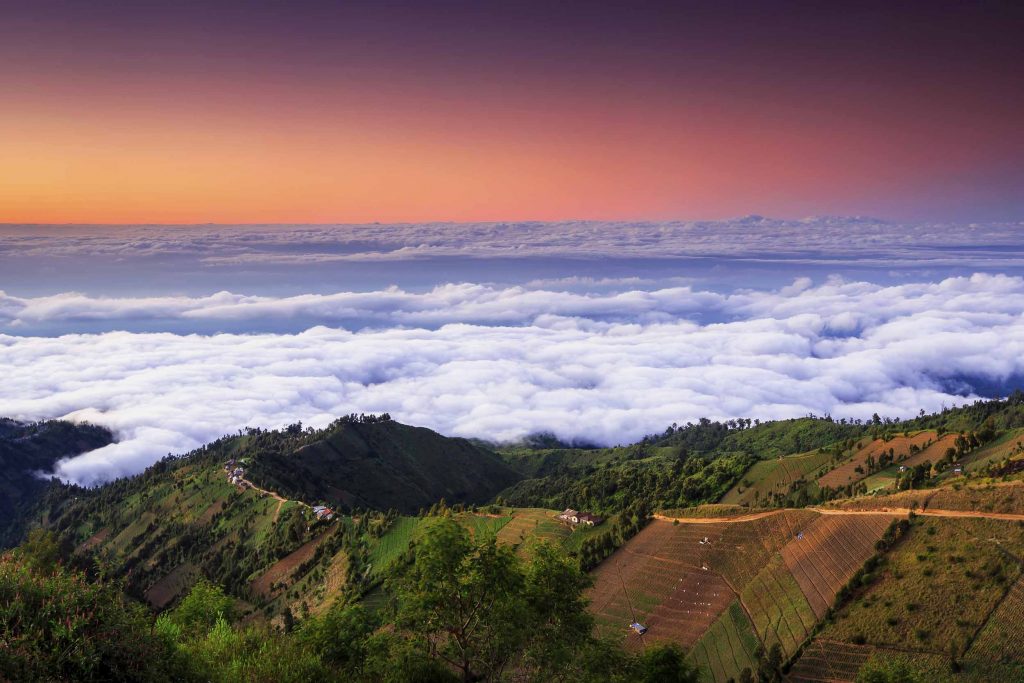 Mount Argopuro is 3,088 metres high and is located on the border of Probolinggo, Situbondo, and Bondowoso Regencies. Hiking Mount Argopuro will give you the most isolated and longest hike in Java. It's because you'll hike over 40 kilometres volcanic teritory that takes about 3-6 days to complete.
On your ways, you'll pass various landscapes that include plantations, bushland, dense vegetation, and rocky land. Plus, you'll get to see ancient temples, beautiful lakes, as well as wildlife like wild boar, deer, and peacock. Since you'll have a long way to the summit, it's better to have a local guide or porter to help your expedition.
Mount Argopuro is the option if you like to immerse yourself with the nature in an adventurous way. The mountain is locally known to give haunted impression as it's believed to be the place of the disappearance of Goddess Rengganis and her ladies-in-waiting. Rengganis has also become the name of the summit.
6. Mount Lawu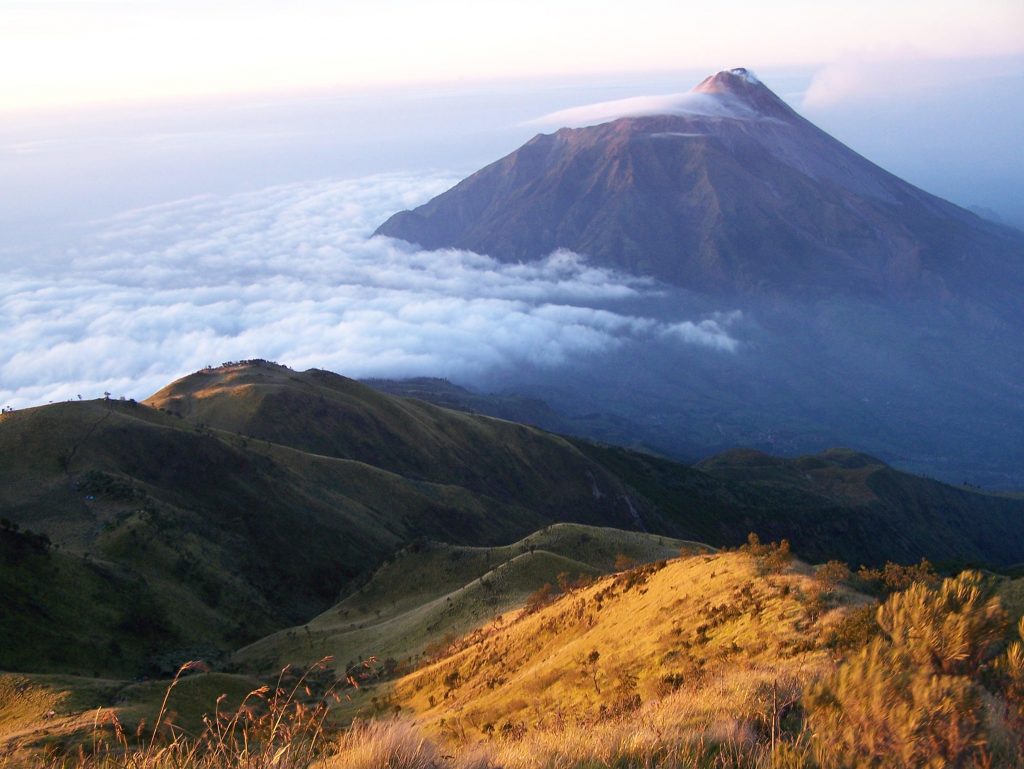 Located on the border of Central Java and East Java Provinces, Mount Lawu is 3,265 metres high. It somehow has potential challenge considering the height. However, the trails are rather quite easy and organized. That's why Mount Lawu is considered to be beginner friendly.
Mount Lawu is popular as one of the pilgrimage destination, especially around certain months before their religious ceremony days. There are two routes that you can take in order to arrive at the summit with only a few hundred metres apart.
The routes are through Cemoro Kandang in Tawangmangu, Karanganyar, Central Java, and Cemoro Sewu in Sarangan, East Java.
Hiking Mount Lawu will grant you the opportunity to enjoy the beautiful greenery carpet that stretches before your eyes as you hike up or down the mountain. Plus, you won't need to worry of hunger as you'll find a food stall at the last post of the mountain hike.
7. Mount Semeru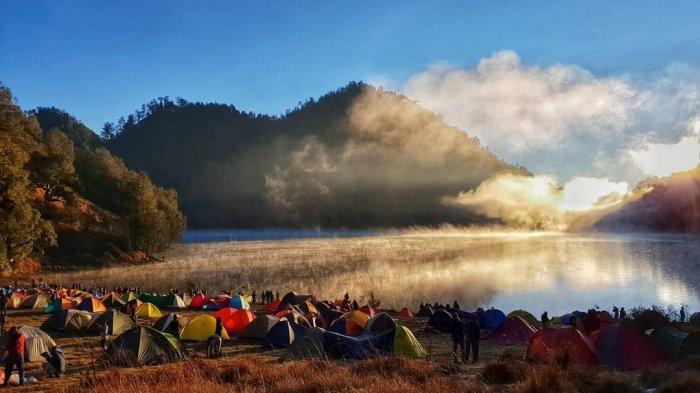 Towering about 3,676 metres high, Mount Semeru represents the highest peak in Java. It's a legendary mountain that you can't ever miss to hike if you're in Indonesia. Plus, it's also one of the most active volcanoes in the country, where you can find volcanic ash sprewed every hour on its most active days.
Mount Semeru is unique as it's also believed to have spiritual aspects. It's believed to be the dwelling of the Gods. It's even known as the Mahameru which can be translated as the Great Mountain where the Gods reside. Your eyes will be pleased as your hiking will go through savannah, stunning slopes, flower fields, and a gorgeous freshwater lake.
It grants you the most incredible hiking moment in yourlife where you can feel both tired but refreshed at the same time. And a spot in Mount Semeru where you definitely need to stay for a moment is Ranu Kumbolo. It's a beautiful, turquoise lake where you can camp and spend the night while admiring the beauty of the mountain.
So, which mountain do you want to hike first?