Cibubur id one of towns in East Jakarta. There are many beautiful attractions in Cibubur. They are not too expensive and suitable for holiday with your family. There are some tourism destinations in Cibubur and surroundings.
Wiladatika Park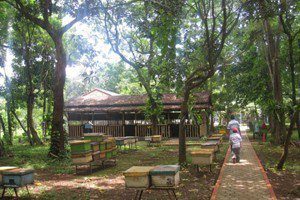 Wiladatika Park stands for The Flower Park of Widya Mandala Krida Bakti Pramuka. Its location has beautiful view and fresh air. This is very suitable for family tourism. It is often used the set of programs television. We can swimming and play in the flower park.
Some facilities in this location are an artificial waterfall, a playground, a fountain, a swimming pool, water boats, mini pedicab, mini caves and flower park. The entrance ticket is Rp. 8,000 per person. For parking bus or truck is Rp. 10,000, a car Rp. 6,000 and a motorcycle is Rp. 3,000. You may also read playgrounds in Jakarta.
Address : Jl. Jambore No. 1.
Buperta Cibubur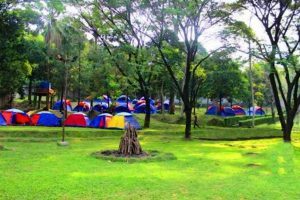 Buperta Cibubur stands for Bumi Perkemahan Pramuka and Graha Wisata Cibubur. It is the biggest attraction in Cibubur.
Some facilities and games in Buperta are paintball, swimming pool, outbound, camping area, traffic park, lake games, inn, cafeteria, fishing, football field and many more.
Its location is on the edge of toll Jagorawi and its wide is around 210 hectares.
Address : Jl. Raya Jimbore, Cimanggis, West Java, Indonesia
Kampoeng Cibubur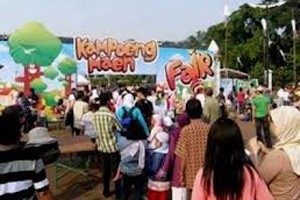 Kampoeng Cibubur has some places, such as Kampoeng Main, Kampoeng Tradisional and Kampoeng Keluarga.
Every Kampoeng has different activities and facilities as their name. This attraction is suitable done with family.
Some games in Kampoeng Cibubur are the giant slingshot, the game of bamboo pole, hit kentongan and many more.
Address : The northeast tip of Bumi Perkemahan and Graha Wisata Pramuka, around 1.1 kilometers from the gate of Buperta.
Arwana Lake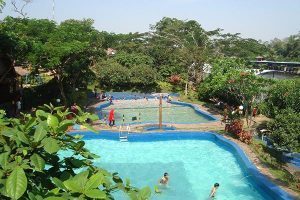 Arwana Lake is one of education attractions. The activities in there are learning to plant rice and plow field, fishing, swimming and many more. Arwana Pond has a vision that in this attraction, you will be not only get happiness but you will get knowledge, too.
The facilities in there are swimming pool, fishing area, lake, outbound, floating donut and many more. You may also read places to visit in Jakarta.
Address : Jl. Jambore Rt. 05 Rw. 06, Harjamukti, Cimanggis, West Java, Indonesia. 
Chinese Village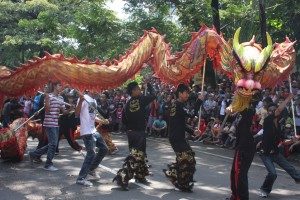 This attraction is in the residential of Cibubur City Tour. You can enjoy it without pay anything or free. If you were here, you will feel in China. Its address is in Jl. Boulevard City Tour, Cibubur, West Java, Indonesia. If you are in Jakarta, you can through Jakarta inner ring road.
Then you can take direction to Jagorawi toll and exit in Cibubur gateway. Your trip will go to Transyogi street or Jonggol. You will be there in 45 minutes.
If you have been in Cibubur Tourism village, you will find this village easily.
Taman Mini Indonesia Indah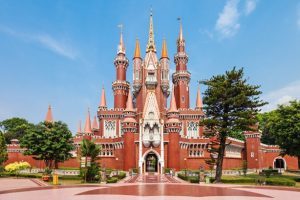 Taman Mini Indonesia Indah or we call it with TMII is a cultural attraction in Indonesia. Its wide is 150 hectares. Its offers you the summary of Indonesian cultural from 26 provinces, such as traditional pavilion of provinces, local dances, traditional clothes and many kinds of traditions in Indonesia. Beside that, there is a lake of miniature Indonesia archipelago in the center of Taman Mini.
There are some games in TMII, such as Among Puro Park, Snow Bay, cable cars, Atmaja playground and another interesting places. Beside recreation, we can add our knowledge and learn about Indonesian Culture.
Address : East Jakarta, DKI Jakarta, Indonesia See also things to do in Taman Mini Jakarta. 
Cibubur Garden Diary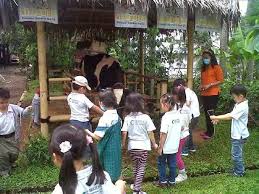 Another interesting attractions in Cibubur is Cibubur Golden Diary or Cibugary. This place is so fit to be education tourism destination for kids because they will be taught how to milk cow well and right. Cibogary was buikt by Rachma Bagory.
Formerly, Cibugary is an area to raising dairy cows and goats. He changed this place to be an Argo travel. He hopes, kids can add their knowledge and realize to drink fresh milk of cow or goat. Because milk is very good for the growth of their bones and intelligence.
Address : DKI farm complex Block C No. 1 Rt. 01 Rw. 02 Pondok Ranggon, Cipayung, East Jakarta.
Jakarta Gems Center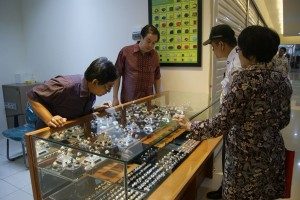 For you who love gemstones, this place is very recommended. You can find more than 1,300 kiosks whose sell many kind of gemstone with many size and colors. Its address is in Jl. Raya Bekasi Barat, Rawa Bunga, Jatinegara, East Jakarta, DKI Jakarta, Indonesia.
To reach this place, you can through these routes :
This route begins from Juanda / Gondangdia / Cikini. You can take direction to Bekasi, then stop in Jatinegara station. After that, you move to the south during two minutes and you can find this place.
It starts from Tanah Abang. You can through Kuning road to Jatinegara. After that, you can walk to the south during two minutes.
You can through Sudirman and take direction to Jatinegara. Then you can go to the south during two minutes.
The Monument Pancasila Sakti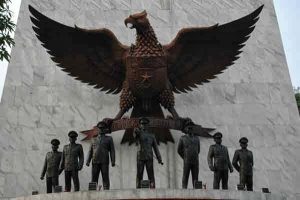 Next  things to do in Cibubur, we can go to historical attractions. There is The Monument Pancasila Sakti. In that place, we can memorize the moment of G30S/PKI. The entrance ticket is only Rp. 5,000. But this price can be changed at anytime. This monument was noisy when there was a young man who sat above the statue of Patriot.
His action invited negative reaction from netizen. As we know, Patriot was very contributed for The Independence of Indonesia. Although, it is just a statue, we must not do that. That statue is purposed to remember us about the importance of Independence and how hard to get the Independence of Indonesia. We have to memorize and appreciate our patriots.
Address : Jl. Raya Pondok Gede Lubang Buaya, Cipayung, East Jakarta
Museum Komodo and Reptilian Park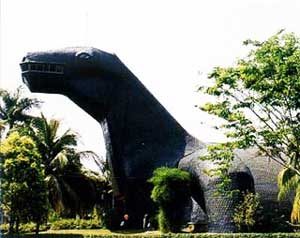 This museum has a topic about animal worlds in Indonesia. Its building is komodo. Yes, komodo is a giant lizard in Komodo Island. This lizard has big and tall body with 70  kilograms weight. This location has a total area 10,120 square meters and a total building 1,500 square meters. This development started from 1st October 1975 until 1st July 1976.
It was declared by President Soeharto on 20th April 1979. There are 150 types of animals that were preserved and displayed in the glass box. In this museum, there are mammals, reptile, insects, elephant, bear and tiger.
There are also butterflies, snails, shells, crabs, shrimp and many more. We can see anything here and it can be a fun place for kids to learn about animals. You may also read
Location : TMII
Stamp Museum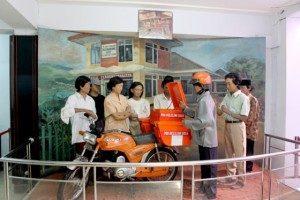 Stamp Museum was built in 9,590 square meters area. It was declared by President Soeharto on 29th September 1983. The collection of stamps are from Indonesia and International. This museum is rounded by two of gates like Bentar relief.
These gates are used as divider between outside yard and Stamp Museum yard. In the second display room, you can see the processing of stamps, start from paint until print it. In the third display room, it shows stamp from 1864 – 1950, the government of Japan, Dutch and the war of independence.
In the fourth display room, it show souvenirs sheet and stamps from 1950 until 1993. In fifth display room, its shows the arrangement stamps base on their themes. And in the sixth display room, it shows stamps with thematic theme such as sports and scouting. You may also read things to do in museum Puri Lukisan, Ubud Bali.
Address : TMII
ELDORADO Water Park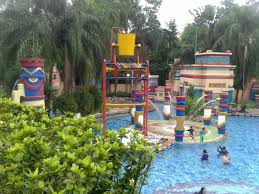 Eldorado water park is an attraction for you who want to get wet. It is in the resident of Cibubur Travel Legend.
The entrance ticket is Rp. 25,000 (weekdays) and Rp. 40,000 (weekend).
With that price, you will not be disappointed because there are many facilities there.
There are four types of pools in Eldorado, you can choose as your needs.
Meanwhile, there are many beautiful things to do in Cibubur you will love with your family, friends, or lovers. 
Cibubur Junction
Do you search shopping attraction in Cibubur? You can visit to Cibubur Junction and shop everything. This mall started to operation on 2015, it is one of complete shopping mall. Beside shopping, you can try to taste culinary here. This location is in Jl. Jambore No. 1, Cibubur, Ciracas. You may also read list of largest shopping malls in Indonesia.
Fantasy Island Cibubur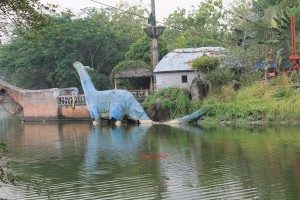 In Fantasy Island Cibubur, you can find an unique park. It is Jurassic Park.
There are a lot of games such as bumper car, ATV, flying horse and many more.
There is also an artificial lake and you can rent a boat to enjoy the view of it.
Fantasy Island Cibubur opens at 10.00 a.m until 05.30 p.m.
You may also read things to do in Jakarta on the weekend.
Mekarsari Fruit Garden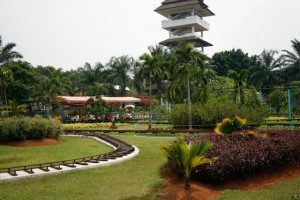 Mekarsari Fruit Garden is in Jl. Raya Cileungsi, Jonggol KM.3, Mekarsari, Cileungsi. You can enjoy fruit as you can. The entrance ticket is Rp. 25,000 per person.
There are many fruits in Mekarsari Fruit Garden, such as mango, guava, melon, pineapple, banana, pomegranate and many more.
Those are some things to do in Cibubur. You will love it cause the nature is beautiful and the culture warms you. Also, it's cheap and unforgettable. You can go there with your family and friends. Happy holiday!