After exploring the corners of Yogyakarta city with its instagrammable spots in Yogyakarta and also some historical places that mentioned on the earlier article, we want to go to the western part of Java island to the West Java province in a very special place named Pelabuhan Ratu. For people of West Java, the name is very much familiar becuase it's a popular attraction there.
Pelabuhan ratu is considered to be a tourism area with its attractions like things to do In Sukabumi, the famous one is of course the Pelabuhan Ratu Beach. This area that still included inside Sukabumi is also having some beautiful waterfalls and even a lake located around it. So, this is the article about the things to do in Pelabuhan Ratu with all its great spots :
1. Pelabuhan Ratu Beach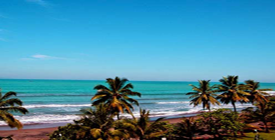 For the first location that looks as beautiful as things to do in Cengkareng, we want to take you to the icon of Pelabuhan Ratu area, a place with the same name called Pelabuhan Ratu beach. Of course this one should be included inside the things to do in Pelabuhan Ratu, because the beach is primadona of the area. It has the soft brown sand, and also pretty big waves that perfect for surfing.
With its natural looking, the Pelabuhan Ratu beach can always be a favorable attraction to be. Its beauty even made the first president of Indonesia, Ir. Soekarno, to plant an investment in the form of  a hotel, a popular hotel located around the beach called Samudera Beach Hotel. Even though the beach has some myth about the Queen of the Southern Beaches, visiting Pelabuhan Ratu beach will always be a great fun activity. Oh, you need to pay about Rp5.000,- to Rp20.000,- for parking ticket, based on your vehicle.
Location : Pelabuhanratu, West Java
Tips : To avoid crowd, come on weekdays.
2. Karang Hawu Beach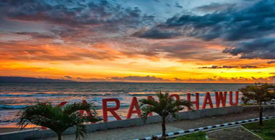 Beside Pelabuhan Ratu beach, on the area there's actually some beaches that you can visit like Cimaja Beach, which is known as a popular place for surfing, and also this one called Karang Hawu beach that located in Caringin, Cisolok.
The thing is, almost all beaches in the area of Southern Java island have these big waves. So that's why, on some beches like this one, swimming is not recommended, especially if you can not swim . To enter the beach, you need to pay for about Rp2.500,-.
Location : Caringin, Cisolok
Tips : Because the waves are big enough to drown you, make sure that you have swimming ability before jump in to the water
3. Cimaja Beach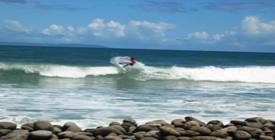 The third one is Cimaja Beach. If you want to feel the experience of surfing on the exotic islands like Bali or Lombok, but you happen to live inside Java island, then don't worry, the Cimaja Beach also has pretty satisfying waves for you, just like best surfing spots in Indonesia.
The beach is also blesses with the small rocks located on its lips, making it looks more great and beautiful. On daily basis, people are coming here for surfing only, not only the locals, but also foreigners. The ticket to enter is Rp10.000,-.
Location : Pelabuhan Ratu
Tips : Bring your own surf board to minimize your expense
4. Cisolok Hot Spring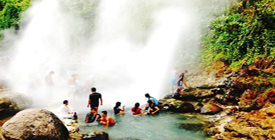 Finding a hot spring is west Java is so easy. In the area of Pelabuahn Ratu, you can even find one in the small area named Cikahuripan, Sukabumi called Cisolok Hot Spring. You can visit this location after visiting several places in Pelabuhan Ratu to release your fatigue.
Unlike the other hot springs you can everywhere, especially in West Java province, this one doesn't have sulphur in it, so it's pretty safe for any type of skin. The 80 degree water is so refreshing and also healthy. But it's a bit expensive though, to enter, you need to prepare Rp30.000,-.
Location : Cikahuripan, Sukabumi
Tips : Don't spend your time to long in the pool, you may get dizzy
5. Lalay Cave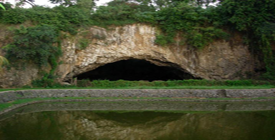 After finding the hot spring, in West Java province that known for having spectacular attractions like things to do in Cimaja, you can also find caves. In Pelabuhan Ratu, there's one called Lalay Cave. Well, you need an extra bravery to enter it.
Lalay means Bat, so it's basically a bat cave. So you can expect a huge number of them living inside the cave. Usually they will get out of the cave every 5 pm each day. It may be the best time to visit the cave, even though everything is so dark.
Location : Cipicung, Kerta Angsana
Tips : Never visit the cave during night time
6. Gado Bangkong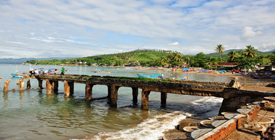 Still located in the area of Pelabuhan Ratu beach, there's a spot that always been used for an activity of fishing. Every evening, you can see one or more people hanging arount to get some free fishes, if they lucky enough.
Even though the place looks somewhat romantic during the evening, this place is not the one for dating or other romantic activities. You'll be ashamed, because there's like many people that can see your actions. To visit, you don't need to pay for anything beside the parking ticket. 
Location : Pelabuhan Ratu
Tips : Don't forget to bring your joran
7. Awang Waterfall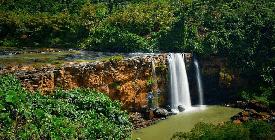 For the seventh location in the things to do in Pelabuhan Ratu is The Awang Waterfall. This attraction might be the best attraction you can find in the area, even in West Java province. It's gorgeous view is one of a kind.
There's like two levels of the waterfall, the water is coming from the first level to the second. It looks so great, don't forget to bring your camera when visiting this Awang Waterfall. But be always careful though, you may fall down from the first level. To enter the place, you will need Rp3.000,-.
Location : Tamanjaya village, Ciemas
Tips : Bringing camera would be so great
Those places are not enough for you explorers? We got you with the list below that containing another things to do in Pelabuhan Ratu
Bacan Lake
Cigangsa Waterfall
Cimarinjung Waterfall
Panenjoan Cliff
Ciptagelar Village
Buniayu Cave
Pangumbahan Beach
Sunda Mount
Karang Numpang Hills
So that's the complete 16 attractions or things to do in Pelabuhan Ratu, a pretty famous place in West Java province. For you people who live around Bandung, or even Jakarta, please do make some schedule to visit Pelabuhan Ratu to fell all its greatness of the attractions.
Awang Waterfall