Bangka Belitung is a province off the southeastern coast of Sumatra. The province consists of two main islands which are named the same as the province itself, Bangka and Belitung islands. There are also other smaller islands in the province.
The islands are bordered by Bangka Strait, Natuna Sea, Java Sea, and the Karimata Strait. No wonder, the first thing that you might notice from the province is its beautiful beaches.\It's always a must to check the best beaches in Bangka Belitung when travelling there. This beauty even lured movie maker to use it as the movie setting.
But, as soon as you arrive at the province, you'll notice that there are so much more things to do in Bangka Island and the other things to do in Belitung Island. The unique and tasty local cuisines will be the next thing that attract you the most.
Bangka Belitung is home to the unique and tasty local cuisines of Indonesia. One of the local noodle cuisine is even regarded as one of the best Indonesian noodle dishes. This brings you to hold a further exploration of its culinary heritage.
Here, we have provided you with the list of 8 unique and tasty local cuisines of Bangka Belitung that you definitely need to try. Check them out and see if you could resist their delicacy.
1. Lempah Kuning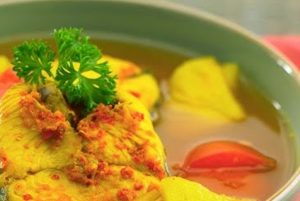 As a province that is bordered by sea, the local cuisines of Bangka Belitung are mainly come from the sea products. Lempah Kuning is the example. It is a popular local cuisine in Bangka Island. It is even registered as intangible national cultural heritage.
Lempah Kuning is made of mackerel or red snapper and pineapple. The word kuning on its name means yellow, which refers to the color of its broth. The broth is made of minced turmeric, galangal, shrimp paste, and chili.
Considering how it is seen as a cultural heritage, the taste must be great. It is a must-try local cuisine of Bangka Belitung. Make sure you try it once you arrive at the province.
2. Kemplang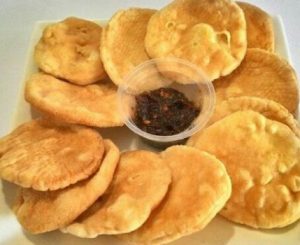 Are you familiar with the side crackers you have when you eat Indonesian foods? Well, it's called kerupuk. And this Kemplang is somehow similar to that kerupuk. It is known as traditional savory fish cracker snack and many tourists usually buy this as a souvenir from Bangka Belitung.
Kemplang has unique and tasty fish scent to it. It comes in a round but thin shape. Kemplang is usually made of Spanish mackerel that is mixed with tapioca starch and other spices. It is then shaped, sun-dried, and then grilled or fried.
The grill one will be a new, unique taste for you as the common kerupuk is only fried. You can enjoy eating Kemplang by dipping it to sambal terasi or shrimp paste sambal. And then you can please your taste buds as they are having a party of savory, sweet, and spicy taste at once.
3. Rusip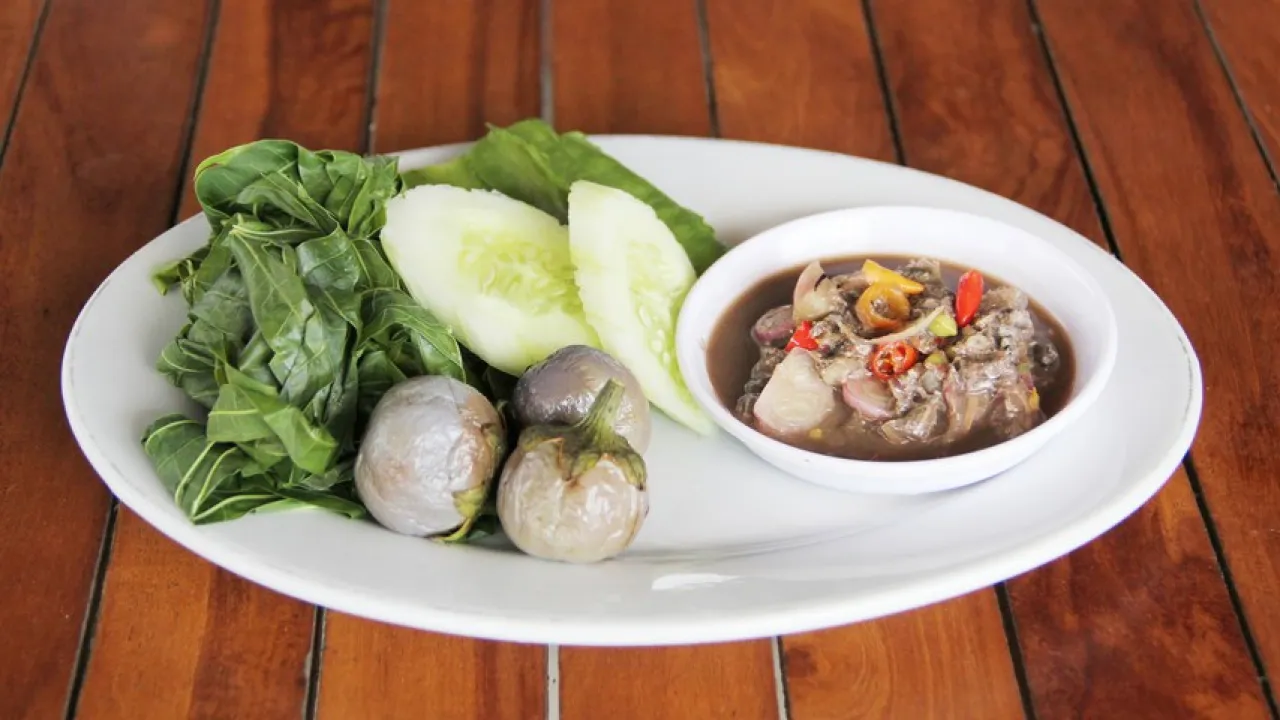 You might haven't done exploring the wide selections of sambal in Indonesia. But here is another one to put on your list; Rusip. Rusip is a unique local cuisine of Bangka Belitung that is served as sambal.
People in Bangka Belitung usually have their main dish with a company form this Rusip. They will dip in their dish into it and then eat it happily.
Rusip is made of anchovy that is mixed with palm sugar and salt and then fermented for at least 7 days. The fermentation is then mixed with lemon juice, chili, and onion. It blends perfectly, creating a sweet and sour combination.
You will certainly enjoy a new, unique, tasty flavor through this cuisine. Try to enjoy it with fried fish, and vegetables like fried eggplant, cucumber, and lettuce. Then, you'll be finding yourself the true Bangka Belitung local cuisine experience.
4. Mie Koba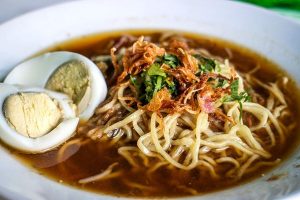 Here is the local noodle cuisine that is regarded as one of the tastiest Indonesian noodle dishes. It is a popular cuisine from Central Bangka. It has thick and savory broth that is made of Spanish mackerel. The tasty broth will make you want to drink your bowl of Mie Koba.
To top the tasty flavor of Mie Koba, some toppings are added. You will have boiled egg, slices celery, and fried onion on to of your tasty-savory noodle. Plus, you can add a refreshing hint of taste to your Mie Koba by squshing a lemon to get its juice in the noodle.
It is a unique and tasty local cuisine that you need to try as soon as you arrive there. As an information, mie is the word in Bahasa Indonesia that means noodle. Koba itself is the originated place in Central Bangka where this noodle might be probably first made.
5. Gong Gong Snail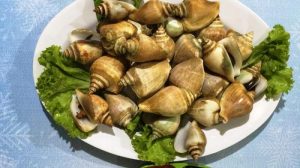 Here is another local seafood cuisine from Bangka Belitung. Gong gong snail is categorized as a type of shellfish . It is freshly caught from the ocean and then cooked to be served on your table. Gong gong snail can be found in Tanjung Pinang and Bintan area.
The preparation of this local cuisine is rather simple. The snail is first cleaned and then boiled. It is then served with sambal as the seasoning.
To eat it, you need to dig in the shell and then dip it into the sambal. It is a tasty, fresh, and unique local cuisine of Bangka Belitung. Make sure to try it when you are there!
6. Rujak Daun Ubi Kembang Pepaya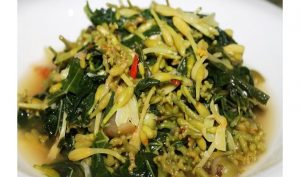 If you have travelled to other regions in Indonesia and tried their local cuisines, then you might be familiar with rujak. Rujak is a traditional version of fruit and vegetable salad dish that are mixed with sweet and spicy seasoning. Every region has different mixture of seasoning ingredients.
However, thr rujak in Bangka Belitung offers something new and unique since it uses daun ubi or sweet potato leaves and kembang pepaya or papaya flowers as the main ingredients.
The leaves and the flowers are first boiled until cooked. They are then stir-fried with seasoning as onions, chili, shrimp paste, and salt.
The cooking process might be different from other rujak as it does not use fresh vegetables. However, the taste is great and many love to eat it. People also believe that this rujak has many health benefits as it is made of healthy ingredients.
7. Grilled Pempek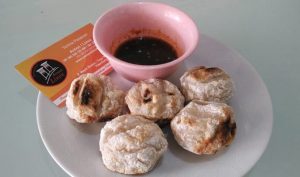 Pempek is known as one of the popular South Sumatran foods. As a province near the Sumatra Island, Bangka Belitung also has pempek as their local cuisine. However, the serving method is different from the one in Palembang, South Sumatra.
Pempek Palembang is usually boiled or fried. But, pempek in Bangka Belitung is grilled or roasted. It is small and round in shape. Once it is cooked after grilled, the center part will be cut and filled with shredded fish, green chili, and sweet soy sauce.
Pempek in Bangka Belitung is also served with cuko, the fresh vinegar sauce. You can easily find this local cuisine as street foods around Pangkalpinang City and Sungailiat City. It is a must-try cuisine if you want to try another form of pempek.
8. Lempah Kulat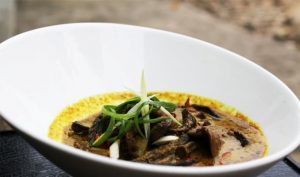 Well, you have read about lempah kuning that is made of mackerel. Now, here is another lempah cuisine from Bangka Belitung. Different from lempah kuning, lempah kulat is made of mushroom. The word kulat itself is locally known as mushroom.
The mushroom is cooked with coconut milk. Then, the broth is made by cooking coconut milk and mixed of chili and other spices. The broth itself tastes spicy and savory. It is a great food to enjoy in any occasion.
You can find it sold in small local food vendors in the province. With the cost of only IDR40,000-IDR50,000, you can already enjoy the tasty-savory flavour of lempah kulat.
From this list, which one would you like to taste first?