Pulau Weh is the largest island of Sabang City when compared to other small islands in Aceh. The island is also the most tip of Indonesia island provides a very beautiful scenery and has become a tourist destination quite popular with many local and international tourists. If you want to vacation to Sumatra, one of the options is Sabang Weh Island is.
Accessibility to Weh Island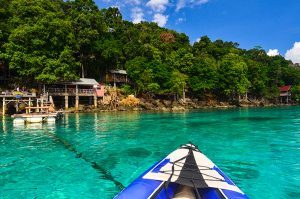 Weh Island Indonesia Spots – Weang Sabang Island can be visited by paying attention to access below very easily. Island in the western tip of Indonesia is quite easy to reach.
Not just by private transportation, with public transportation, even tourists can easily reach it. So for those of you who do not have a private vehicle or lazy to use private vehicles then you can follow this route.
If you want to visit Pulau Weh, here are some explanations about access as a travel guide. With a very clear explanation so it makes you easier to visit it.
Air travel to Aceh

The first thing to do is go to the province of Aceh, which can be accessed in several ways. If tourists come from outside of Sumatra, most choose air transport. Just come to Sultan Iskandar Muda International Airport with the desired fleet of aircraft.
Or it could also arrive at Kuala Namu Airport North Sumatra then continue the journey to Banda Aceh. However, the consequence, from Medan to Aceh requires a road trip for 12 hours and more time spent.
The journey to Ulee Lheue Port
From Sultan Iskandar Muda International Airport in Blang Bintang District, the journey continues to Ulee Lheue Port. Travel duration is about 1 hour only. This trip can be done with the preferred mode of transportation.
Starting from private vehicles, taxis, public vehicles damri, motor rickshaws, and also labi-labi (typical Aceh vehicles). Please choose any transportation at a different rate. If you are a backpacker, damri public transportation becomes a fairly cheap solution, which is only Rp 20.000 only.
Travel to Sabang Weh Island
From the port, the journey continues to Pulau Weh. There are two alternative modes of transportation to get to the island, ie by ferry (slow journey) or fast boat. There are three hours of ferry cruises that can be used, ie morning at 8, noon at 11, and afternoon at 4 with a fairly cheap price (Rp 25.000) with travel for approximately 2 hours.
For a fast boat, the trip is only done twice that is at 8 am and 14.30 pm. Ticket prices are quite expensive at Rp 85,000.
Things to Do in Pulau Weh Indonesia

In Sabang Weh Island there are many tourist attraction that can be visited by tourists. Therefore, it is incomplete if not stay there during the holidays. The island is directly adjacent to this neighboring country will also be presenting many phenomena that provide valuable experience. 
Some attractions in Pulau Weh most are coastal attractions and beaches, among others are as follows.
1. Iboih Beach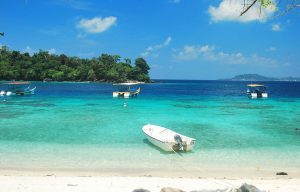 If looking for a complete tourist spot, this beach is the answer. There are innumerable inns, from the cheapest to the most luxurious.
There are also many car rental services (motorcycles and cars) and snorkeling equipment. A culinary tour can be done around this beach because there are many food stalls and good eating places. Beach water is also very clear and basically visible. The floating boat looks like it is hovering.
On this beach tourists usually also play water and boat ride. There are also tourists who cross to the nearest island from this beach with a rented motorboat. Iboih Beach is one of the famous beaches in Pulau Weh. Also, try these Things to Do in Subang
2. Monument zero kilometer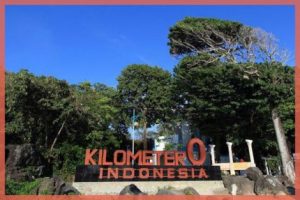 There are many heavenly things to do in Pulau Weh Indonesia. This spot has a history of the Sabang community. Many tourists who capture the moment in this simple monument.
Although the scenery is not as beautiful on the beaches that exist there, this monument is the best spot to enjoy the phenomenon of the sunset. Many tourists are also waiting for the sunset in this spot.
This monument is a symbol that explains that on this island zero kilometers Indonesia began to be calculated. It used to be an ordinary white monument. But now this monument already has a more interesting appearance because it has been renovated by the local government that makes tourists feel at home linger there.
3. Beach of Love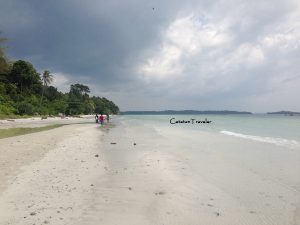 These beaches include coral beaches that do not have many sandy areas. However, tourists can still swim or play water on the edge of this beach. Its location is not far from Sabang City and includes easy to reach.
There are also many green plants that increasingly provide a soothing natural feel around the beach. There are many rocks by the beach that make this beach typical. Also, try these Best Fishing Spots in Indonesia
Tourists can also wait for the sunset on this beach because the beach of love is one of the best spots to enjoy the sunset. Tourists are also free to hunt for cool photos with an afternoon beach backdrop and an island across the beach. 
4. Coast Tapak Gajah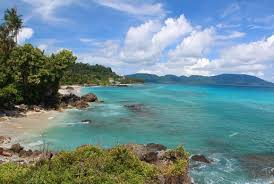 This beach is located next to Pantai Kasih and still in the same area as Pantai Kasih. However, unlike Pantai Kasih that does not have a large sand area, the beauty of this Elephant Tapak beach is precisely from the existence of its white sand and clear sea.
In addition, the long beach line makes tourists free to play water anywhere along the beach tapak this elephant. Because of the same orientation as Pantai Kasih, this beach is also the best location to enjoy the charming sunset scenery.
Tourists are free to enjoy the sunset anywhere along the beach while taking pictures. In addition, the silhouette of coconut trees, clouds, and coastal rocks will add to the charm and distinctive atmosphere of this beach.
5. Pantai Sumur Tiga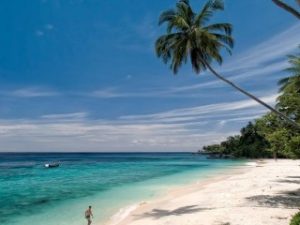 This beach is quite famous in Weh Island because of the existence of wells around the beach, amounting to three.
The water on the well is fresh. Whereas the location is right next to the beach which in fact should taste salty.
This makes the beach unique. In addition, many coconut trees that emphasize the typical tropical atmosphere of Indonesia that can be enjoyed by tourists.
White sand beach and spacious blue ocean combined with a blue sky will also spoil the eyes of tourists who come. Well, there more magical spots just like the Indonesian Paradise Islands You Should Totally Visit
6. Anoi Itam Beach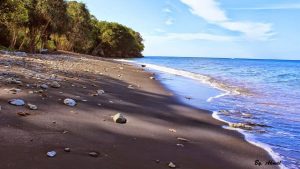 This beach name already describes the condition of the beach. As the name suggests, this beach is a beach that has black sand. But the color of this sand is the main attraction.
In addition, there is a history of the former Japanese colonies on this beach that form a fortress. This beach is located in Gampong Anoi Itam, Sukajaya District, Sabang City. Also, try these beautiful Crazy Things to Do in Indonesia
The other name of this beach is the sweet black beach. This name is used as a nickname for the beach because the beach atmosphere remains charming despite the color of black sand. That said, there is a lot of nickel content in the sand of this beach that makes it dark and heavy density.
7. Ujung Kareung Beach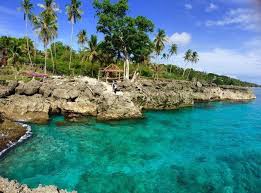 As the name suggests, this beach is a type of coral beach that has no beach sand. Tourists can enjoy the typical beach scene of coral or sea rocks.
In addition, there is also a snorkeling spot that is not less beautiful with other beaches on the island weh. This beach is also a good fishing location. Tourists can try fishing there and prove it for themselves.
This beach location is in the Village Suak Indrapuri Johan Pahlawan District, Meulaboh. This beach has a history of the civilization of Indonesia because formerly this beach is the headquarters of the invaders. Before the 2004 tsunami, this beach was a TNI and police settlement. So, let's go to try the heavenly things to do in Pulau Weh Indonesia!
8. White sand beach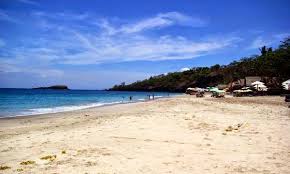 As the name suggests, this beach has white sand. The calm waves on the beach are safe to be used as a location to play water around the beach by the tourists. There are also green trees not far from the beach.
There are also boats leaning on the edge of the beach that adds to the beautiful natural atmosphere. There are also typical beach reefs that make the beach more beautiful.
The view of the archipelago across the coast also adds a very charming Indonesian tropical impression. This beach is one of the best and most beautiful beaches in Pulau Weh. Tourists must come to this beach. 
9. Rubiah Island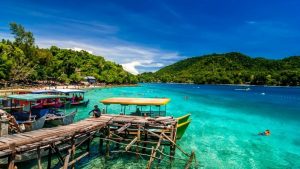 The location of this island is opposite Iboih Beach. To get to this island, tourists must cross by boat with a journey of only 15 minutes.
On this island, tourists will be pampered with a typical scenery of the northern coast of Indonesia with clear water. This location is also the best spot for snorkeling. Underwater park on the island is not inferior to the underwater park Bunaken.
There are many varieties of fish and coral that are diverse with charming colors. If you like to enjoy the underwater scenery, this is the best location of Pulau Weh. . Also, try these beautiful Hidden Beaches in Indonesia
Lodging and Accommodation to Weh Island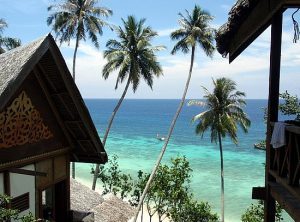 Pulau Weh has a fairly good tourist development. There are many lodging accommodations that can be visited to stay. The price is also varied, ranging from the cheapest Rp 100,000 to the classy with a price of Rp 1,000,000 per night. Tourists are free to choose on which lodging they will stay.
However, to be able to get around Pulau Weh, the existing transportation accommodation is not entirely comfortable. There is a public transport type of transport, but the hours of operation only until 7 pm. Meanwhile, the transport of labi-labi on the island also has no special route. For tourists who really want to ride around comfortably, it is better to rent a vehicle that is provided with a relatively affordable price.
To save time, do not forget to ask for a map of the object when arriving at the Port of Sabang. The map will help travel around the island of Weh for travel can be more effective and efficient. What a beautiful heavenly things to do in Pulau Weh Indonesia!
Such is the explanation of Sabang Weh Island that can be visited during the holidays. Happy holiday in the western tip of Indonesia. Have a nice holiday in Indonesia.