As a cultural province, Central Java is mostly known for its Javanese arts. You can witness the thick culture that still exists even today via visiting the Keraton or join in the events of puppet shows or Wayang. But, you may as well enjoy the attractions there, like the things to do in Kebumen.
Kebumen is one area located just by the sea. It's flanked by Lundong and Banjarnegara. Because of its location near the vas blue sea, you may have a chance to find some of the pretty beach zreas there.
No wonder that people are like to go to Kebumen because of this aspect alone. Even though the Java island in general is filled with a lot of beaches like the beautiful beaches of Central Java, you can find some things that are special in this area.
If you want to enjoy the maritime tourists spots, here's the recommendation for you :
Beaches in Kebumen
1. Suwuk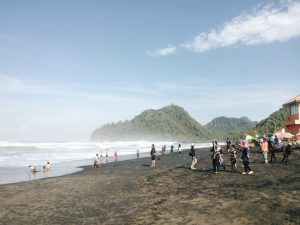 · Location : Suwuk village, Tambakmulyo, Puring
· Ticket Fee : Rp4.500,- for adults, Rp2.500,- for kids
Located not far from Karang Bolong beach, this touriskm object named Suwuk presents exotic beauty through a combination of the sea with big waves, hills and also green trees.
The low tide from the floods that caused by very high tides, makes managers pay full attention to this Suwuk beach.
Although it was damaged but now this location turns into a complete beach because it has been supported by a number of facilities such as swimming pools, zoos, game rides to fishing grounds.
2. Sawangan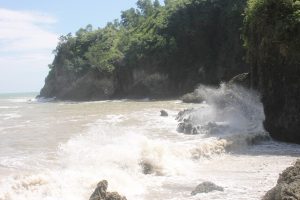 · Location : Surorejan village, Puring, Kebumen
· Ticket Fee : Rp7.500
In Central Java, there's some best attractions you may have a chance to visit, like the Water castle of Yogyakarta.
If you want to enjoy the calmer ones, Sawangan is one of them.
Not only is the Hill "I Love You" is famous in the Sawangan area, this beach that is located in the village of Surorejan, Puring district is also one of the favorite destinations among tourists.
Not only presents the maritime beauty, the area also serves a series of unique spots that are really interesting to be explored such as the waterfalls or lagoons.
3. Watu Bale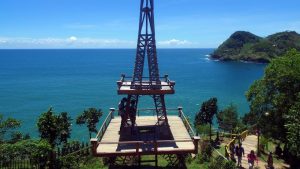 · Location : Pasir village, Ayah, Kebumen
· Ticket Fee : Rp5.000,-
Watu Bale is one of the exotic marine areas in the district of Ayah that presents its own charm with a viewing post shaped like the Eiffel Tower and the Titanic Hill.
This place also still provides a lot of other interesting photo spots that are best suited for the tourists who like to decorate their social media.
While filling your feed with beautiful pictures of Watu Bale, you may try to swim as well.
The waves are not that big and dangerous for visitors, so they can explore around til their heart's content
4. Pertahanan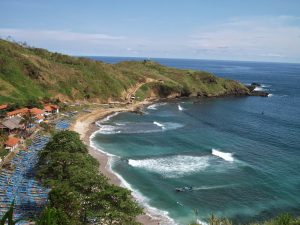 · Location : Karanggadung village, Petanan, Kebumen
· Ticket Fee : Rp3.000,- for adults, Rp2.500,- for kids
You know, you can have your best chill time hiking best mountains in Central Java. But if you think that hiking is a bit tiring activity, you can look for an alternative calmer like the Pertanan beach.
Ever heard of Pertahanan beach?, this is one of the tourist spots in Kebumen that is not spared from mysteries and legends related to its origin.
However, even though it is full of myths and there have been people washed away by the waves, there are still many tourists that happily visit the beach to just enjoy the beauty of the sunset.
But unfortunately, this beautiful Petanahan area is not recommended for visitors to swim because the waves are very fierce , even during low tide.
5. Lampon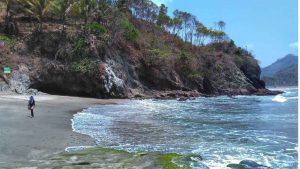 · Location : Pasir, Ayah, Kebumen
· Ticket Fee : Rp5.000,-
Although said to be one of the new attractions that have not been touched and is quite hidden, this spot has a lot of interesting places with romantic nuances.
Fine white sand, caves, Wanalela hills, the bay, to the passing traditional ships are a series of good spots to be used as a background for taking photos, videos on this beach.
The location itself is located between two marine objects which are also very popular in Kebumen, namely Tanjung Karang Pengantin and Pantai Pasir.
6. Menganti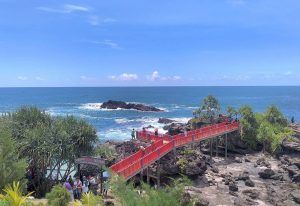 · Location : Karangduwur, Ayah, Kebumen
· Ticket Fee : Rp10.000,-
If Makassar has Losari as its iconic pride, Kebumen also has a series of the best beaches which are also topnotch, one of which is Menganti in Karangwudur village.
Among the several marine objects in Kebumen, Menganti, which is decorated with blue sea water, occupies the top spot as the nearest beach attraction to the city center and is one of the most crowded tourist spots around Kebumen.
When it comes to lodging, this place that is close to Gombong area is really accommodating, because there are already many places to stay around such as hotels or guesthouses.
7. Logending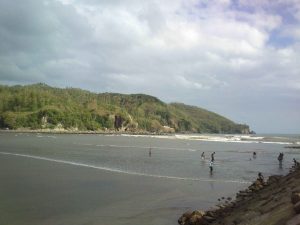 · Location : Ayah, Kebumen
· Ticket Fee : Rp 5.000,-
Other than finding the beautiful things to do in Pati, you can also find some in Kebumen. One beach called Logending is worth mentioning.
This historical Logending beach is quite popular with tourists.
This is because the spot presents beauty through its black brown sand and the existence of green mangrove located nearby.
In order to bring a convenient aspect for the tourists, this spot has also been equipped with a variety of adequate facilities ranging from places to pray, food stalls, game areas, and information centers.