Being an archipelago country with more than 17.000 islands, Indonesia has numerous beautiful beaches with their own unique characteristics.
When talking about beaches in Indonesia, your mind might immediately travels to Bali or Lombok which are already popular with their wonderful beaches.
However, the beaches in other islands and places in Indonesia are also wonderful that they can give the same ambience as Bali and Lombok. Even the most populated city in Indonesia can offer you wonderful beaches as your destination can be weekend gateaway destinations from Jakarta you never thought possible.
Central Java, a province in Java island, provides numerous beaches with beautiful scenery that will make you stay longer than what you have planned. The beaches are rarely visited so your vacation there will feel very peaceful with beaches that are still natural.
To give you full options of which beach to go to, here is a list of 6 beautiful beaches in Central Java you won't want to miss.
Panjang Island Beach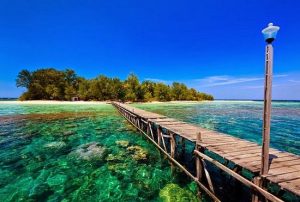 Panjang island beach is located in Panjang island, an island in Jepara regency, Central Java that can be reached by boat from Kartini beach, Bandengan beach or Prawean beach for about 15 minutes.
Visiting Panjang island beach can be a perfect option for things to do in Jepara. The beauty of the island is still well-preserved with shady trees, shallow sea, and white sand that create a calming and peaceful atmosphere.
Panjang island beach has beautiful soft white sand that is perfect for relaxing or sun-bathing. It is completed with clear and shallow blue sea water, making it very suitable for swimming, snorkeling, and even canoeing. The sea water creatures and coral reef also create perfect scenery for underwater activity.
Even though it is rarely visited, the government has provided facilities that can accomodate your holiday there. Along side the beach, placed paving blocks that are perfect for walking along the beautiful beach.
The island opens everyday and you are only charged a levy of IDR 5,000 and IDR 10,000-20,000 for the boat transportation from the mentioned beaches.
2. Karimunjawa Islands Beach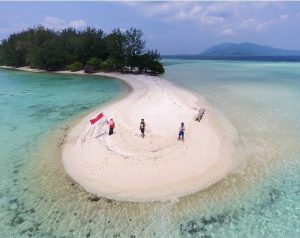 Karimunjawa islands is an archipelago of a total 27 small islands in Jepara regency that has beautiful soft white sand beach that is one of the most beautiful white sand beaches in Indonesia that is also perfect for relaxing and sun-bathing.
The beach in Karimunjawa islands is one of the clearest and the most beautiful one. No wonder, Karimunjawa islands is dedicated as the paradise of Java. The underwater view is also categorized as one of the best in Indonesia.
Arriving on the beach, you can go snorkeling interacting with the beautiful sea creatures and the coral reef. You can also see dolphins if you are lucky, or if you are brave enough to go through an extreme way, you can try swimming with sharks.
To arrive in Karimunjawa islands, you will need to rent a boat by paying approximately IDR 1,300,000 with free rental of snorkeling and BBQ equipments.
3. Widarapayung Beach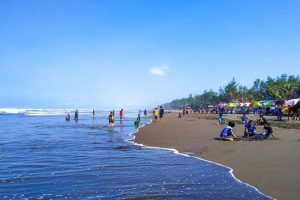 Widarapayung beach is very accessible since it is situated in Widarapayung village, Cilacap regency, 35 kilometers from Cilacap city. It is one of many areas affected by tsunami in 2006. It is now fully recovered and is ready to pamper you in your vacation.
Widarapayung beach is well-known as a great spot for surfing since it has great waves that was even used for National Surfing Contest in 2010. This can be your faultless choice if you want to surf the best waves but escape the crowd of Bali or Lombok.
The beach has clean black sand and shady coconut trees along the beach. The sand is the habitat for crab, so when you go there with kids, taking them for a crab hunting can be a fun activity.
Instead of walking along the beautiful beach on foot, you can rent a horse by paying only IDR 5,000 and you can go enjoying the beauty of the beach by riding a horse.
When you are in Cilacap, visiting Widarapayung beach must be on your list of things to do in Cilacap as it is very accessible and you only need to pay IDR 5,000 only as the entrance fee. You can visit it 24/7 but the beach is usually a bit crowded in the weekends, so if you wish to have a calmer ambience, you better visit it on weekdays.
4. Karang Pandan Beach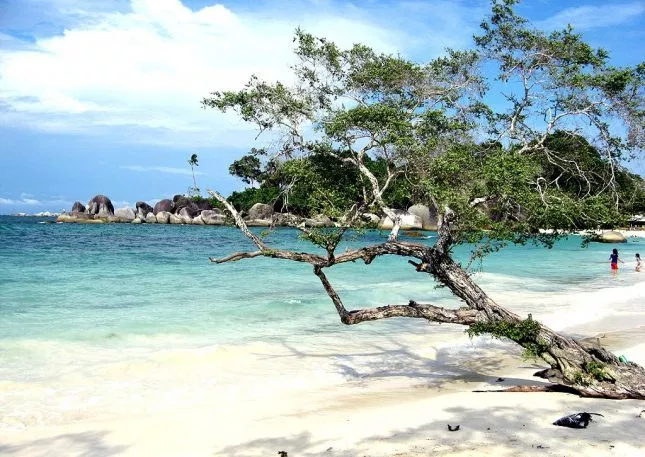 Karang Pandan beach is located in Nusa Kambangan island, Cilacap regency, an island known for its supermax prison that is filled with convicted murderers, terrorists, and those who convicted high and dangerous cases. The island is also known as excecution island since it is used as the location for carrying death penalty.
In contrast to the island's dark image, Karang Pandan beach has beautiful scenery with white sand and shady trees along side the beach. The beach is quite quiet since it is rarely visited, making it seems like a hidden paradise.
The fine white sand with the calm and beautiful atmosphere will make you enjoy every moment you spend in Karang Pandan Beach.
To arrive on the beach, you need to go with a boat from Penyu bay to Nusakambangan island for 5-10 minutes only. Then, you can walk or rent a motorcycle to go to the beach. The entrance fee to the beach is around IDR 7,500.
5. Bopong Beach

Bopong beach is in Kebumen regency, 24 ilometers from Kebumen city. Bopong beach has beautiful brownish sand and is popular as a great sunset spot.
Bopong beach is a place for turtle cultivation, so you can also watch or even participate in the process of hatching eggs and releasing the baby turtle or hatchling.
On the eastern side of the beach, there is a river flow that forms a wonderful lagoona. The lagoona is one of attractions that makes visiting this unique beach as one of mandatory things to do in Kebumen.
Bopong beach opens 24/7. You only need to pay IDR 5,000 if you go there by motorcycle.The amount has included the parking and entrance fee. If you go there by car, you need to pay an extra IDR 5,000.
6. Menganti Beach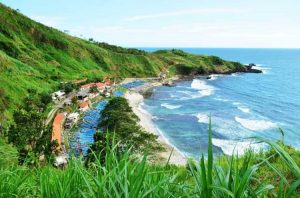 Kebumen regency has many beautiful beaches to offer. Besides Panjang island beach, Menganti beach is also a beautiful beach located in Kebumen regency, 43 kilometers from Kebumen city.
The scenery offered by Menganti beach is incredibly amazing with white sand, blue sea water, and green hills that are filled with shady trees, making it perfect for honeymoon couple or family with kids.
On your way to the beach, you will need to go through path on hills while also enjoying the beautiful view of hills and thebeach itself with cool breeze. If you are tired, you can take a rest in some of small lodges built along the hill path.
The other attractions in Menganti beach is caves and waterfalls that are situated around the beach. The waterfalls are wonderful as they are 30 meters high in average.
This beautiful beach opens from 7 AM-5PM and you only need to pay IDR 10,000 as the entrance fee.
When you are in Central Java, make sure to give a shot to these 6 beautiful beaches as once you know how beautiful they are, you won't want to miss them. Next, for a cultural view, you can visit temples in Central Java to complete your holiday in Central Java.