Vacationing in Indonesia ain't complete without enjoying the beautiful things in its islands. We talked about some of them, like things to do in Moyo Island for example, that located in the West Nusa Tenggara. Not only that part of Indonesia that has some exotic islands, but all around Indonesia is actually filled with so many wonderful islands. Starting from the west point to the east point of Indonesia, there are so many of them, ready to be visited by the tourists our there.
In this time, we want to tell you about another island located in the west side of Indonesia. Not the things to do in Riau islands, but the other island located in the same Sumatra area, called Samosir Island. Maybe some of you already familiar with the name of Samosir, in some of Indonesian urban legends. The place is indeed somewhat magical, and of course, worth mentioning as one of the best island attractions in Indonesia. For the things to do in Samosir Island? You can check them below :
1. Samosir Conservation Park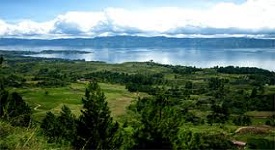 Well, the first time you arrive and stepping your steps on Samosir island, you should go to the first attraction on our list of things to do in Samosir Island called Samosir Conservation Park. This is the most outstanding spot of them all. This spot located on the area of Tomok, also our main area on our topic of Samosir  island's attractions.
The scenery here is the main high light of this area. It's second to none. Whole resting after a long long journey to the Samosir island, you can take your bag off, sitting, and just watching how wonderful the view is. Also there are some food sellers around if you're hungry.
Entry Ticket : Rp15.000,-
Opening Hours : Opens everyday from 6 am – 5 pm
2. Samosir Island's Peak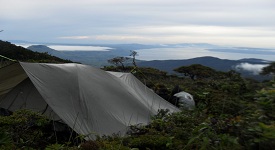 You can go to the top of the island, just like the thing you can do in things to do in Rote island and having fun with your friends by doing some fun stuff in here, like making a camp and playing with your mates. And then, in some certain times, you can jut laying around and watching the sky.
Not so many people doing this anymore, so it's a great chance to try it, especially if you're having friends along with you. What's the point of vacationing in one of the great places in Indonesia, without tasting a bit of its natural beauty. Want to try it? Just do your best to conquer the top of Ronggur Nihuta area with much efforts. Don't worry, it'll be paid shortly.
Entry Ticket : No entry ticket
Opening Hours : This spot always opens
3. Rianiate Sulphur Hot Spring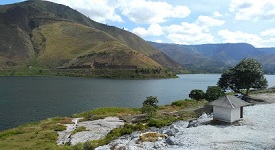 In this Samosir island, you can also enjoy the hotspring, like the one located on things to do in Rinca island. But in this one, the hot spring contains a lot of sulphur. Just like the famous sulphur hot spring in Italy, this one is also a very good sulphur hot spring you can find in all around South East Asia. You can get almost the same feels in this Rianiate sulphur hot spring.
Even though it smells a bit bad, doesn't mean that it's useless. Inside the water, there's ton of nutrition that can be used to regenerate your skin and make it more healthy and more fresh than ever. Also remember, you can get it for a really cheap price. Sounds nice, right?
Entry Ticket : Rp20.000,-
Opening Hours : Opens everyday from 8 am – 4 pm
4. Tomok Village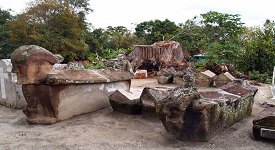 And then we're back to the Tomok area. This time, we're gonna visit its village, with the same name. This village is actually felt so magical and a bit scary because of the horror vibe you can get when seeing the tombs in there.
Not just like the usual tombs we saw in cemetery, these tombs have their own unique shape. For example, there's this stony coffin with the big head on the front, meaning that the tomb itself came from the royal or respected family. And there are many other tombs than that, you can see them by yourself. Absolutely a must visit place in things to do in Samosir island.
Entry Ticket : No entry ticket
Opening Hours : This spot always opens
5. Sigarattung Waterfall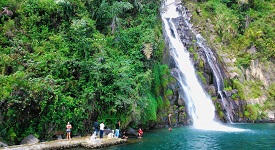 The next things to do in Samosir island, is the Sigarattung Waterfall. Even though this waterfall is not included in spectacular waterfalls in Indonesia, this Sigarattung Waterfall that located also in the area of Tomok is of course worth visiting. Not just like many other waterfall that doesn't have their own pool, this Sigarattung has its own refreshing swimming pool.
Yes, you can swim there with ease. But don't worry about the people in there, usually there aren't so many people during the usual work days. You can come here ither by your friends or your love one, and go swimming and sight seeing to your heart's content.
Entry Ticket : No entry ticket
Opening Hours : This spot always opens 
Other Things to Do in Samosir Island
Be sure to visit all of these spots while having some vacations in Samosir island!
Stone Throne of King Siallagan, the legendary remains of great Bataknese kingdom
Huta Bolon Museum, great spot to learn about the Batak culture
Efrata Waterfall, the wonderful exclusive waterfull only available in Samosir island
Batikta Gift Shop, be sure to have something for people at home
Parbaba Beach, the most beautiul beach located only in Samosir Island
Those are the great things to do in Samosir island, one of the best exclusive island in Indonesia. For you who still questioning about taking a trip in this island and feel confuse about it, well, don't be. This island can give you the cheapest way to get the best natural and cultural journey in Indonesia.
So, it's indeed a great place to spend the whole holiday in this end of year. Be sure to mark your calendar, and have fun!