After looking for the place included in the area of Sulawesi like things to do in Bitung, of course we would go back there again to find the other areas included within with the complete list of attractions. We want to enjoy them all not only fo day, but also, the night.
Well, you can also find another choice in the area with so many things to Do in Palu, but what if we going to the center of South Sulawesi, Makassar city. This town is going to be a fun place for having the best nightlife ever in the land of Sulawesi. As for the places, you can check them all in our list of best nightlife in Makassar Indonesia below :
1. Losari Beach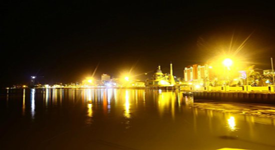 As the fist location, of course we want to introduce you to the famous and yet a beautiful place to spend whole night long, called Losari Beach. Born as a great place just like the places inside things to do in Kendari, you can't miss this one.
With the cheap praking ticket, youc an get here with your friends or maybe your love one to have some romantic time seeing the sea that completed with the ship lights. Also, you can get some snack here or meal for about Rp5.000,- .
Location : West side of Makassar
Tips : Bring some foods or snacks while in here to enjoy scenery with much comfort
2. Cerekang River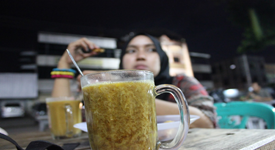 Next one is the Cerekang River. Known for the cheapest price but offering greater aspects for the best nightlife in Makassar Indonesia, the Cekarag River known for its spesial offering for the hungry tourists, called Sarabba.
As a place that also included in the things to do in South Sulawesi, Cekarang river is actually the best place for hangout and free the head from stress by having some Sarabba while chatting a bit with friends and also some good people in there. For the tight budget people, this is a really perfect place.
Location : Cerekang River street, Pisang Utara
Tips : Prepare some money to buy some things like Sarabba
3. Trans Studio Makassar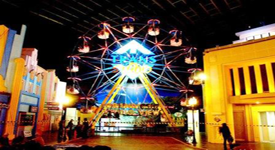 Next round we will go to the noticable place in Makassar, which is the brother of the famous attraction in Bandung, a place that has a name of Trans Studo Makassar. Even though the rides there are not more complete than in Bandung, but this spot is a really great alternative for Makassar people for having the same feeling to having fun in a place like Trans Studo Bandung.
You can also buy so many souvenirs in here. In fact, the place is also included as the place for shopping things to buy in Makassar. The entry ticket here is also affordable. Imagine, with only Rp100.000,- you can try the rides here freely.
Location : Maccini Sombala, Tamalate
Tips : Be sure to come here easyly to be able to enjoy all the rides
4. Barcode Bar and Kitchen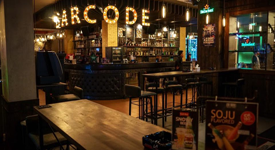 Serving as the bar and also a restaurant, Barcode Bar and Kitchen is really suitable place for having the best nightlife in Makassar. Even though the prices here are a little bit higher, you will get some exlusive bar services in here like the high quality drinks, and show.
The price start with Rp50.000,- and that price growing through the menus that available in there. So, if you happen to be a tourist who has some company with you, then you and your gang should try one of the best hangout place in Makassar.
Location : Amanagappa street number 5
Tips : Have some fun with friends or college friends
5. Aryaduta Hotel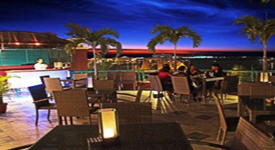 After circling around the city of Makassar, in the end of the day you should have some rest before actually going to have more fun tomorrow morning. If you looking for the best hotel in Makassar, one of the answers would be Aryaduta Hotel.
Located in a very strategic place, especially near the famous beach of Losari, the Hotel has some price for you to pay first. Starting from Rp600.000,- you can get a room woth such comfort. This is a really good one, especially for the business men or foreign tourists with much budget with them.
Location : Somba OPU street 297
Tips : Located near Losari beach, walk here to save more budget 
6. Nusantara Street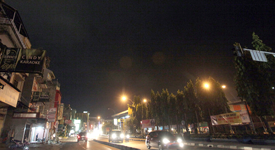 Next one is of course the Nusantara street. Unlike the river of Cerekang river on the explanations above, this street has some places, the places filled with luxury and glamour, resembling the nightlife there is filled with no worries at all.
On the street, you can find many buidings that have the relation with the words nightlife. There are restaurant, bar and several places more waiting for your visit. But, be careful though, especially for thiefes or bandits who target reckless tourist during the late night.
Location : Makassar city, South Sulawesi
Tips : Be careful of your belongings, especially during the night
Those seven places are not the only ones that included on our list. To see more complete of the best nightlife in Makassar, you can also try to visit these recommended locations :
Grand Clarion Lounge, the famous lounge of Grand Clarion
Diva Family Karaoke, want to have fun singing all night long with family? Come here
Vegas Bar and Lounge, feel the little piece of Las Vegas in this luxury bar
Malibu Cafe, exiting and fun cafe located in the center of Makassar city
Level Nightclub, a club which is located near Aryaduta Hotel
Zona Cafe, one of best cafes in Makasar
Paotere Harbor, suitable place for the couples
Galesong Beach, a choice beside the known Losari beach
Rotterdam Fort, if you want to have a little creepy tour
Makassar Great Mosque, really peaceful place of Makassar
And after the short explanations about nine places left in our list, the topic for today is done, really well. Like you can see above, Makassar offers you the option from the cheap to the highest prices of locations for enjoying your most best nightlife. Well, the important thing is be sure to chedck your budget first before actually visiting somewhere.